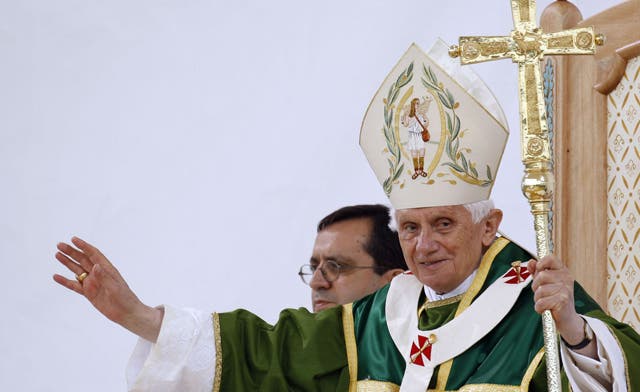 Pope: Egypt must resist attempts to divide religions; Clinton 'concerned'
Pope Benedict XVI called on Egypt on Wednesday to fight "attempts to sabotage" relations between Christians and Muslims, as U.S. Secretary of State Hillary Clinton voiced "deep concern" about deadly weekend violence.

Addressing pilgrims during the weekly general audience in St. Peter's Square, the pope expressed his sorrow over clashes between protesters and security forces on Sunday that left 25 people dead, mainly Coptic Christians.

The pontiff called for national unity a day after Egypt's deputy prime minister resigned after the clashes sparked a wave of anger at the ruling military and calls for the premier to quit.
He shared the pain felt "by all Egyptian people, divided by attempts to sabotage the peaceful coexistence" between Muslim and Copt communities, he said.

And he said he supported Egyptian civil and religious authorities in their struggle to uphold the peace and protect the rights of minorities.

The Copts are generally estimated at between six and 10 percent of Egypt's population of 80 million. The Coptic Church itself claims it has 10 million followers, 90 percent of which are Orthodox.

U.S. Secretary of State Hillary Clinton, meanwhile, voiced "deep concern" early Wednesday about deadly weekend violence that killed 25 people in Egypt, mainly Coptic Christians.

Clinton phoned top Egyptian diplomat Mohammed Kamel Amr to convey "the need for the Egyptian government to ensure that the fundamental rights of all Egyptians are respected, including the rights of religious freedom, peaceful assembly and the end of military trials for civilians, and that efforts be made to address sectarian tensions," the State Department said.

She also expressed "deep concern about the violence" and condolences for those killed and injured in the clashes.
Deadly clashes
Sunday's violent unrest came amid mounting anger at the ruling military and calls for the premier to quit.

Over 300 people were also injured in the clashes that saw a protest demonstration by Copts attacked by the army and thugs, sparking furious condemnation of the leadership's handling of the transition from Hosni Mubarak's rule.

The Supreme Council of the Armed Forces, which took power when Mubarak was ousted in February, tasked Prime Minister Essam Sharaf's government to immediately form a fact-finding panel to investigate the clashes.

Clinton lauded the decision to launch a "transparent and credible" probe but "stressed the importance of the investigation beginning immediately and holding accountable all responsible parties with full due process of law."

The U.N. human rights office has also urged Egypt to ensure that any probes are conducted in an impartial and independent manner.

Military prosecutors said they have remanded 28 people in custody -- both Muslims and Christians -- for 15 days pending investigations, according to the official MENA news agency.

Egypt's finance minister, who is also deputy premier, submitted his resignation two days after deadly clashes between Coptic Christians and security forces in Cairo, prompting further concerns over the effects of political unrest on the economy.

Field Marshal Mohammed Hussein Tantawi, leader of the military council that took power after the popular revolt that ousted President Hosni Mubarak, rejected the resignation, the state-run Middle East News Agency said late Tuesday, without giving further details.
Calling for resignation of government
Earlier, MENA cited Sharaf as saying the Cabinet puts its resignation at the disposal of the council, adding that this was standard procedure and doesn't mean that the government had quit.

On Tuesday, leading independent daily al-Masry al-Youm called for the resignation of the prime minister.

"The state has lost its stature, the regime is on the verge of collapse, and Sharaf's government has run out of credit. All that is left to say is Sharaf, resign," it said in a front page editorial.

The liberal Wafd party's mouthpiece echoed the view: "After what has happened, we can say that he cannot serve as a prime minister and he must leave his post."

Hazem al-Beblawi said he was resigning due to a severe breach of the security and safety of society after the violence on Oct. 9 that left at least 25 people dead, according to MENA.

Sectarian tensions have increased amid fears by many Christians that Islamists will have more influence in post-Mubarak Egypt, where parliamentary elections are scheduled to start on Nov. 28. The fighting erupted while Christians were protesting an attack on a church in southern Egypt.

The Oct. 9 demonstrations started peacefully and then turned violent when protesters were attacked by men in civilian clothing who pelted them with stones, witnesses said. They later clashed with security forces and some were killed and injured by gunfire. Others were run over by an armored vehicle, they said.

Copts complain of systematic discrimination, but since Mubarak's fall tensions have also mounted between the military -- initially hailed for not siding with Mubarak -- and groups which spearheaded the revolt.
Accusing "infiltrators"
Egypt's Coptic Orthodox Church led by Pope Shenuda III accused "infiltrators" of triggering the street battle on the Nile waterfront, while the country's top Muslim official, Grand Imam Ahmed al-Tayyeb, urged the cabinet swiftly to issue a unified law on building places of worship.

The cabinet vowed this week to look into amending religious laws which would give Copts more guarantees to freedom of worship.

But after months of tensions, unrest and clashes, some say the measure is too little too late.

International calls for restraint poured in, as the Arab world's most populous nation teetered on the edge of widespread unrest, and activists feared their revolution was crumbling.

Saudi Arabia urged Egypt to exercise restraint. The White House said President Barack Obama was "deeply concerned," and a "deeply saddened," while U.N. chief Ban Ki-moon urged the military to defend "all faiths."

Amnesty International said the military "must urgently explain how a protest against religious discrimination turned into a bloodbath."

The International Federation for Human Rights condemned the "use of excessive force," with IFHR president Souhayr Belhassen saying this raised the question about the SCAF's ability to lead the transition.