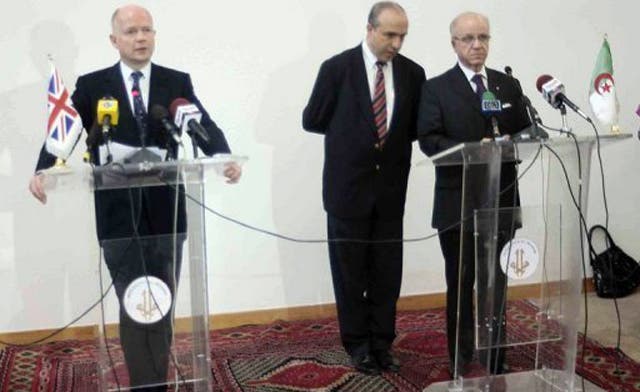 Algerian and British ministers discuss exiled Qaddafi family
Algeria should cooperate with the new regime in Libya over members of the Qaddafi family who took refuge there, British Foreign Secretary William Hague told reporters Wednesday.

The fugitive leader's daughter Aisha fled to Algeria late in August with her brother Hannibal, their mother Safiya – Qaddafi's second wife – and his eldest son Mohammed. Aisha has since given birth to a baby girl.

Asked about members of ousted strongman Muammar Qaddafi's family who had fled to Libya, Hague said the British authorities should cooperate with the Libyan authorities over any request they might make regarding people there.
Hague, speaking at a joint press conference with his Algerian counterpart Mourad Medelci, said he had made the same point in every country he had visited on his regional tour.

The same held true of any requests from the International Criminal Court, he added.

It was important to work with both the National Transitional Council (NTC), Libya's interim authority, and the Hague-based court to ensure that anyone wanted by the courts was brought to justice, he said.

"We took them in for humanitarian reasons, President Abdel Jalil acknowledged we were within our rights to do so," Medelci said, referring to Mustafa Abdel Jalil, head of Libya's National Transitional Council.

"We have informal relations with the CNT, which today have become official," he added.

Abdel Jalil had received Algeria's ambassador to Tripoli on Tuesday and they had had constructive talks, he added.

Asked about the issue of terrorism, Hague said Algeria and Britain had worked particularly closely in this area.

Already Tuesday, on his arrival in Algiers, Hague said: "We will continue to support Algeria in its fight against Al-Qaeda and to encourage a regional approach to this common threat."

Hague's visit to Algeria is the final stop in a tour of north Africa that has already taken in Libya and Mauritania.