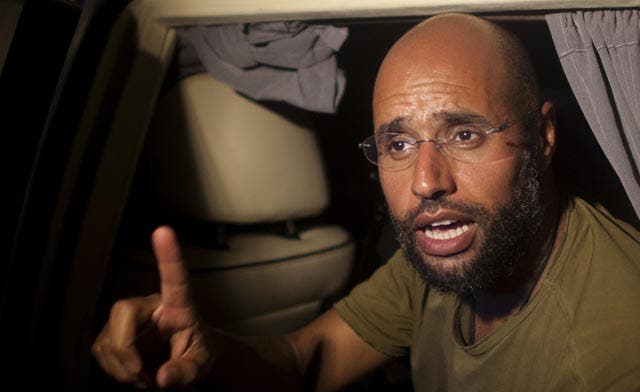 In first statement after his father's death, Saif al-Islam Qaddafi vows to fight on
In his first statement after the death of his father Muammar Qaddafi, Saif al-Islam vowed to continue fighting "rats" and NATO forces in a one-minute audio message aired Saturday by a Syrian-based TV channel.

"I say go to hell, you and NATO behind you. This is our country, we live in it, we die in it and we are continuing the struggle," Saif al-Islam said, denying media reports that he had been captured and wounded in a final assault by revolutionary fighters on the coastal city of Sirte, where his father and brother Motassim were detained and killed under disputed circumstances.
"I received a message from tribes in Bani Walid about a general consensus between them to respond to threats from the gangs of rats ─ revolutionaries and the NATO alliance," Saif al-Islam said.

Saif al-Islam's whereabouts still remain unknown but a military commander of the interim National Transitional Council (NTC) said on Sunday that its fighters were surrounding an area where he was believed to have been hiding since fleeing Sirte last Wednesday.

Commander Abdel Majid Mlegta was quoted as telling Reuters that the area is in the south of the town of Bani Walid, 150 km (100 miles) southwest of Tripoli. Bani Walid fell to the fighters earlier this month after putting up a determined resistance for several weeks.

Saif al-Islam was widely reputed to have been based in the town during its resistance, before moving to Sirte.

Mlegta said Qaddafi's Niger-based security chief, Abdullah al-Senussi, had been in contact with Saif al-Islam to try to help him escape and flee to the neighboring country "but our brigades are encircling this area south of Bani Walid."

Mlegta did not elaborate on reports that NTC fighters had searched offices recently used by Saif al-Islam and had found material indicating that he had been researching areas south of Bani Walid include places called Wadi Zam Zam and Wadi al-Mandoum.