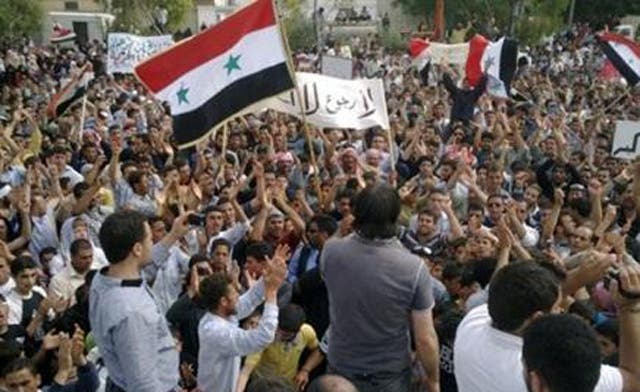 More deaths reported in Syria crackdown as protesters renew call for no-fly zone
As many as 41 people have been killed when security forces opened fire at demonstrators on Friday, Al Arabiya reported citing Syrian activists as protesters called for nationwide rallies to demand the imposition of a no-fly zone over Syria to protect civilians.

Demonstrations started after Friday prayers in Hama and Homs despite a heavy military presence, activists and residents said.

The Syrian Observatory for Human Rights said in a statement received by AFP in Nicosia that the fatalities were in the protest hubs of Hama, in the north, and Homs in the center, and that security forces encircled mosques and made arrests before and after weekly Muslim prayers.
The army has been carrying out operations in Qusayr for several weeks, amid fighting there between troops and suspected army deserters, activists say.

"Despite the siege, the proliferation of checkpoints and the encirclement of mosques, people staged a mass demonstration in Kafr Nabl," a town in Idlib, near the Turkish border, demanding the "imposition of a no-fly zone," the rights watchdog reported.

The latest bloodletting comes as activists called for nationwide protests on Friday to demand the imposition of a no-fly zone over Syria to protect civilians and to encourage soldiers to defect.

"We call on the international community to impose a no-fly zone so that the Syrian Free Army can function with greater freedom," said the Syrian Revolution 2011 on its Facebook page.

A defecting army officer who has taken refuge in Turkey, Colonel Riad al-Asaad, claimed in July to have established an opposition armed force called the "Syrian Free Army," but its strength and numbers are unknown.
Nationwide rallies
Similar rallies took place across Syria after prayers, the activists said. The protests, calling for President Bashar al-Assad to quit, were energized by Qaddafi's death last week, according to Reuters.

Qaddafi had close links with Assad, who has sent tanks and troops to put down seven months of street protests demanding an end to 41 years of Assad family rule.

An armed insurgency has also emerged in the last several weeks, mainly in rural regions and in Homs, a city of one million, 140 km (85 miles) north of Damascus, where the army and militiamen loyal to Assad have been assaulting old neighborhoods that have been scene of regular protests.

The Assad government says it intends to carry out political reform and that the unrest is fomented by militants trying to wreck the program. More than 1,100 soldiers and policemen have been killed in the violence, it says.

Local residents said helicopters fired machineguns and rockets at residential neighborhoods of Homs this week in an escalation of the military operation. The authorities have barred independent media from the city, making confirmation impossible.

"God, Syria, We want a no-fly zone over it," shouted protesters in the Bab Tadmur neighborhood of Homs.

"A no-fly zone is a legitimate demand for Homs," read banners carried by protesters in the Khalidya neighborhood.

In Hama, activists and one resident said Assad loyalists fired at a demonstration demanding his overthrow as soon as it broke out from Abdelrahman Bin Aouf mosque.

"They attacked the protest immediately because the mosque is near the old Hamiuidya neighborhood and they did not want the two protests to meet," said one activist, who did not want to give his name for fear of persecution.

"Since the military occupied the main square in Hama the protests have been organized in separate neighborhoods," he said.
Continual attacks on Hama
Hama, scene the massacre of thousands by the military in the 1980s that was the bloodiest in modern Syrian history, came under attack by government forces at the beginning of the fasting month of Ramadan in August to end pro-democracy rallies.

The authorities said "armed terrorist gangs" were operating in Hama, killing army and police and "frightening inhabitants yearning for peace and security."

In Damascus, Youtube footage showed a crowd of hundreds holding shoulders and swaying in a traditional 'dabka' dance while singing an adaption of an old ballade.

"Tears flows from the eye, my mother, crying for Syria's youth," they chanted.

International outrage has mount as the civilian toll rose in Syria. The United Nations is conducting an investigation into what it says are possible human rights violations, but world powers show no sign of repeating action similar to Libya.

Assad held an inconclusive meeting on Wednesday with Arab ministers seeking to end the bloodshed by mediating a dialogue between him and his opponents.

The Arab League had called on the two sides to agree to a dialogue within two weeks.

The authorities said they had reservations about the proposal while opposition figures said they cannot sit down with them if killings of protesters, disappearances and mass arrests do not stop.
Spain summoned Syria's ambassador
Spain, meanwhile, summoned Syria's ambassador to Madrid on Friday, complaining of allegations that members of his embassy abused Syrian opposition sympathizers on Spanish soil, the government here said.

The foreign ministry summoned ambassador Hussamedin Alaa "after repeated complaints by Syrian and Spanish-Syrian citizens, opponents of the current regime, of acts allegedly committed by members of the embassy in clear abuse of their status," it said in a statement.

Human rights watchdog Amnesty International on Oct. 3 reported intimidation and torture of opposition sympathizers living in Europe and the United States, and of their relatives in Syria.

The foreign ministry told Alaa "to put an end to any activity by (embassy) staff that could be considered a violation of the human rights of demonstrators, in particular their freedom of association and expression."

The Spanish government "will not hesitate to take appropriate measures over acts committed on its territory by staff with diplomatic accreditation or official status," it added.