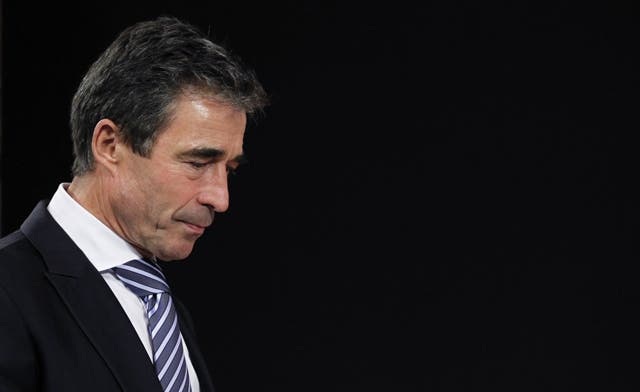 NATO chief rules out no fly-zone and intervention in Syria
NATO chief Anders Fogh Rasmussen ruled out the possibility of a no-fly zone for Syria, in remarks to an AFP correspondent as he travelled Monday to Tripoli to mark the end of the alliance's air war in Libya.

"It's totally ruled out. We have no intention whatsoever to intervene in Syria," Rasmussen said when asked if there was a possibility NATO would now spearhead a no-fly zone in Syria.

Rasmussen landed unannounced in Tripoli hours before NATO's mission in Libya was due to end officially, seven months after Western powers fired the first barrage of missiles against Muammar Qaddafi's forces in an air war that played a major role in ousting the veteran dictator.

"We have no intention whatsoever to intervene in Syria," he insisted, saying the conditions there were different to those in Libya.
"First of all we took on the responsibility for the operation in Libya because there was a clear U.N. mandate, because we had strong and active support from the countries in the region," Rasmussen said.

"Actually they contributed actively to Operation Unified Protector. None of these conditions are fulfilled in Syria. And besides, one case is not like the other. We have to take decisions on a case-by-case basis. From an overall perspective, you can't compare Libya and Syria," he said.

Syrian activists have appealed on the international community to impose a no-fly zone on Syria to protect civilians and encourage army deserters opposed to the autocratic rule of President Bashar al-Assad.

Rasmussen strongly condemned the Syrian regime's crackdown on pro-democracy protesters which has killed more than 3,000 people, most of them civilians, according to a U.N. toll.

"Obviously I strongly condemn the security forces' crackdown on civilians in Syria. It's absolutely outrageous. And the only way forward in Syria, like in other countries, is to accommodate the legitimate aspirations of the Syrian people, introduce democratic reforms," Rasmussen added.

His remarks came as the Arab League said it awaited Monday a response from Damascus to a proposed roadmap for peace, after talks Sunday in the Qatari capital with Syrian Foreign Minister Walid Muallem.

Repeating previous warnings, Qatari Foreign Minister Sheikh Hamad bin Jassem al-Thani told reporters after the meeting that Assad risks forcing an international intervention if he allows the violence to continue.

"The entire region is at risk of a massive storm," Sheikh Hamad said.

Pro-democracy activists have urged the Arab League to freeze Syria's membership from the 22-member organization.