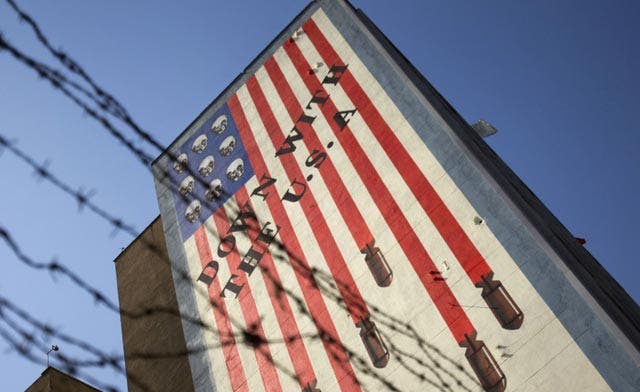 U.S. dismisses Iranian letter demanding apology for plot allegations as a 'rant'
The United States on Tuesday dismissed as "a rant" an Iranian letter to Washington over allegations of an Iranian plot to murder the Saudi ambassador in Washington.

"We did receive a lengthy diplomatic note from the Swiss protecting power on behalf of the Iranians," US State Department spokeswoman Victoria Nuland said after Washington received the letter from Swiss intermediaries.

In the absence of U.S.-Iranian diplomatic relations for more than three decades, Switzerland acts on behalf of U.S. interests in Tehran.

"It was about seven pages. It was a rant. It was full of all kinds of denials. There was not a lot new in there from our perspective," Nuland told reporters.

In Tehran, Iran's foreign ministry spokesman Ramin Mehmanparast said that Iran had sent a letter to the United States seeking an "official apology of the Americans in protest of this made-up scenario."

"Instead of pursuing this scenario and the wrong path of foreign policy in which they are moving, Americans had better move to correct this path," Mehmanparast told reporters, as quoted by IRNA, the country's official news agency.
"A letter has been sent [to the United States] ... It is our right to seek the official apology of the Americans in protest of this made-up scenario, as these allegations are not true at all," he said.

U.S. officials claimed to have uncovered an Iranian plot to assassinate the Saudi ambassador to Washington, Adel al-Jubeir, in a sting operation involving the FBI and the Drug Enforcement Administration. The alleged plot has frayed sensitive relations between Iran and Saudi Arabia.

Tehran has strongly denied any involvement in what the U.S. says was a plot by the Quds force to kill the Saudi envoy by hiring assassins from a Mexican drug cartel for $1.5 million.

An Iranian-American, Manssor Arbabsiar, who is 56, was accused of being the central figure in the alleged plot; he pleaded not guilty to the charges last week in a New York court.

Iranian officials said the accusations were an attempt by Washington to divert attention from its domestic economic woes and foreign policy failures in the Middle East.

"Our nation is entitled to the right to demand an official apology from the American side in protest at fabricating such scenarios," said Mehmanparast.

The letter is reported to outline Iran's formal complaint over accusations that military factions inside the regime were directly linked to the alleged plot.

An unnamed Iranian diplomat told NBC News that the letter called for a U.S. public apology to both Iranian government officials and officials of the Al Quds Force for "material and moral damages" caused by "this baseless accusation," which violated "international rules and regulations," the Fars news agency reported.

Iran's president, Mahmud Ahmadinejad, condemned the U.S. allegations last month.

"Iran is a civilized nation and doesn't need to resort to assassination," he said, according to Fars.

"The culture of terror belongs to you," he said, referring to the United States.

Iran also has demanded that a diplomat be allowed to visit Arbabsiar in prison.