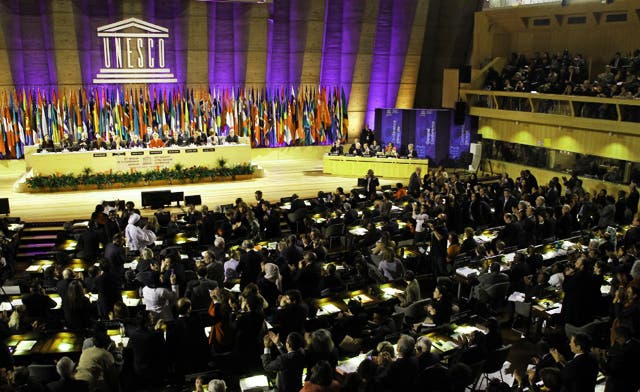 UNESCO forced to suspend programs after U.S. funding cut over Palestine
The United Nations' cultural agency UNESCO has been forced to take a "radical step" and suspend new programs after the United States' cut off funding to the agency, its director general said Thursday.

The funding withdrawal left a $65 million hole in the agency's 2011 budget when the United States decided against backing the cultural agency after Palestine gained UNESCO membership earlier this month.

Palestine's UNESCO bid saw many sides clashing over whether it should become a member, as it would ultimately boost their bid for recognition as a state at the United Nations. Washington opposed the Palestinian bid for a full U.N. seat on the grounds it is unhelpful to efforts to revive peace talks with Israel, the last round of which broke down a year ago.
"We have to take radical steps and we have to take them now," UNESCO Director General Irina Bokova told the conference in Paris on Wednesday, according to the text of her speech made public on Thursday.

A UNESCO spokesperson said priority programs would be maintained, and there were no plans for job losses at the organization for the time being.

The United Nations Educational, Scientific and Cultural Organization was plunged into financial chaos in October when Washington, which provides 22 percent of its funds, froze its contributions following the Palestinian vote.

UNESCO, which promotes global education and press freedom, among other tasks, would conduct a review of its activities between now and the end of December, during which new commitments would be put on hold.

As per U.S. legislation, America cannot fund any U.N. agency that grants full membership to any group that is not internationally recognized as a state.

Bokova said that by reviewing its contractual commitments, staffing levels, travel expenses and communications costs, UNESCO could probably generate savings of up to $35 million for this year's budget.

In an address to UNESCO diplomats, Irina Bokova said the agency faces a $65 million (47 million euro) funding shortfall and would not make new spending commitments, following a row with Washington over Palestinian membership.

"This deficit corresponds to the sum due from the United States for the year 2011. The United States have a habit of paying their contribution at the end of the year for reasons of their own budget calendar," she said.

"We will not receive this sum. We will therefore have to take radical measures, and we will need to take them now, at this general conference.

"I have suspended the entirety of our undertakings. I have suspended the execution of our programs, during our review process, until the end of the year," she explained, promising her office would review the entire budget.

Clarifying her statement, UNESCO officials said the cuts would principally hit new undertakings and ongoing running costs such as staff travel, publications and communications.

The planned intergovernmental conference on "intangible cultural heritage" in Bali on November 22 and 29 will not be affected, however.

Last month, the United States and Israel pulled the plug on their UNESCO funding after members voted to admit Palestine as a full member, a move seen as a step towards its eventual recognition as a U.N. member state.

U.S. legislation dating from the 1990s requires the US administration, Israel's staunchest ally, to withdraw funding from any UN agency that admits Palestine as a full member before a final peace deal is reached with Israel.

U.S. funding accounts for 22 percent of the UNESCO budget.

Bokova said she hoped the year-end review would allow savings in UNESCO programs − which support cultural, educational and scientific projects around the world − of around $35 million.

"But this won't be enough to resolve our problem," she warned in a speech to the 36th session of the UNESCO General Conference.

She went on to urge member states to increase their contributions to UNESCO's working fund in order to make up the shortfall caused by the U.S. boycott.

"These are not decisions of choice, these are decisions of urgency," she said. "I do believe that we can pull through these difficulties, together − for this, we must act now."