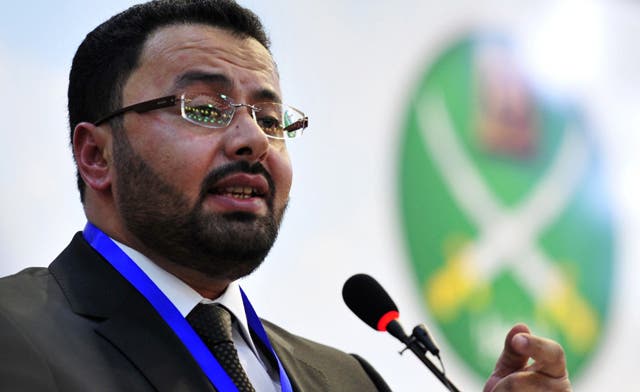 Libya's Muslim Brotherhood holds their first congress in Benghazi after 25 years
Libya's Muslim Brotherhood, repressed under the regime of fallen strongman Muammar Qaddafi, has opened its first public congress inside the country for almost 25 years.

"This is a historic day for us and for the Libyan people," its leader Suleiman Abdelkader told AFP at the opening late Thursday of the three-day congress in the eastern city of Benghazi.

Brotherhood officials said it was their first public meeting inside Libya in almost quarter of a century, although it met underground during Qaddafi's rule for fear of reprisals or held their congress abroad.
The meeting of about 700 people was at a wedding hall in Benghazi, the eastern city where the revolt against Qaddafi began.

Officials of Libya's ruling National Transitional Council, including Islamic Affairs Minister Salem el-Sheikli and Defense Minister Jalal al-Degheili, attended the opening in Benghazi.

The congress was due to elect a leader and discuss strategy, notably whether to form a political party, said Abdelkader.

The Brotherhood supports the idea of a "civil" state but founded on Islamic values, he said. "This country belongs to all its people and everybody must participate in its construction."
Next elections
As Libya emerges from a bloody civil war, many observers believe the next elections could pit religious political groups against secular parties, with better-organized Islamists such as the Brotherhood having a tactical advantage.

"Rebuilding Libya is not a task for one group or one party but for everyone, based on their ability," Abdelkader said.

His remarks appeared to be an expression of support for the idea of a technocratic interim government, which Abdurrahim al-Keib, the prime minister designate, is trying to assemble by a Tuesday deadline.

Abdelkader would not, however, be drawn on whether the Brotherhood wanted one of its members to be part of the interim cabinet, which is due to organize elections in June to a constituent assembly.

"Maybe some (members) will join based on their qualifications and ability. But for this time period we will not join as a party," he told Reuters after his speech.

The slickly organized event was heavy in revolutionary references, with the stage draped in the new national colors and speeches given by guest speakers from Tunisian moderate Islamist party Ennahda and Syria's banned Muslim Brotherhood.

There was also a general mood of celebration for a movement that was founded in 1949 but which organizers said had not held a public meeting in Libya until now.

"I feel great. It's freedom. It's like a dream for us," said Abdallah Dahmani, a 65 year-old university lecturer in chemistry. Many delegates, like Dahmani, were intellectuals with advanced degrees and spoke fluent English.
Rebuilding Libya is not a task for one group or one party but for everyone, based on their ability

Suleiman Abdelkader, head of the Libyan Muslim Brotherhood
Secrecy
Members interviewed by Reuters had often joined decades ago and had either lived abroad or were forced to keep their membership secret for fear of arrest, torture and imprisonment.

After so many years of secrecy, they said they were eager to show the Libyan public that there was nothing sinister about their group ̶ an offshoot of Egypt's Muslim Brotherhood, that country's most popular and organized political force.

"There's nothing secret. We're not planning to destroy the country," said Abdou Majid Saleh Musbah, 56, an engineer from Tripoli who joined the movement in 1979.

Meanwhile, Abdelkarim Belhaj, the former jihadist who heads the military council in the Libyan capital, said on Thursday that a deal had been reached with the ruling National Transitional Council for former civilian rebels to sit in the country's new cabinet.

"We have reached an agreement that candidates from the thwar (civilian rebels) will receive certain very specific portfolios," Belhaj said at the start of a military parade, without elaborating.

"We hope that these promises will be kept," added the man, whom Libyan media have suggested is among the leading candidates for the defense ministry.
We have reached an agreement that candidates from the thwar (civilian rebels) will receive certain very specific portfolios

Abdelkarim Belhaj, head of the military council in Tripoli