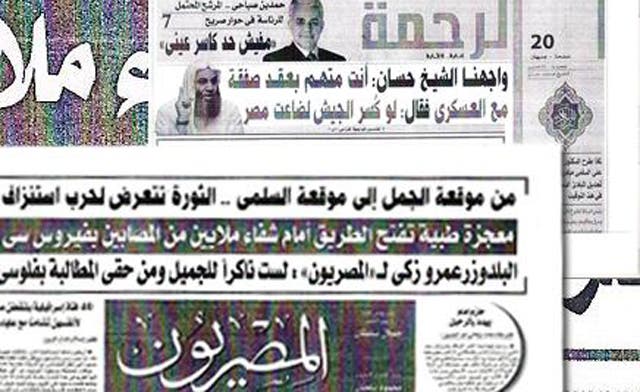 New independent newspapers see the light in post-revolution Egypt
Despite the economic crisis Egypt has faced since the eruption of the January 25 revolution, print media outlets are currently enjoying a boom and the launch of several independent newspapers bears witness to a new era that wants to do away with official and businessmen's press.

Two newspapers played a role in marking this new shift.

Last Monday saw the release of the first issue of al-Mesryoon, run by brothers and prominent journalists Gamal and Mahmoud Sultan. The print publication did not need much advertising since its electronic version has been online for the past six years and its name is therefore already famous amongst Egyptian internet users.

The new publication will apparently follow the footsteps of the website as far as its campaigns against certain political factions, especially liberal and secular, are concerned.
The content of the first issue was quite diverse as it offered news stories as well as political, economic, and sports reports. This issue made it clear that the paper is planning to steer away from sensational stories that aim at increasing circulation at the expense of journalism ethics.

The paper aims at making the reader its first priority by setting an example of self-funded press that does not adopt the policies of the government or a specific political party and is not funded by businessmen.

Last Friday, al-Rahma newspaper, whose editor-in-chief is Mahmoud Hassan, brother of prominent preacher Mohamed Hassan, was launched.

From the first issue, it becomes obvious that al-Rahma is defying expectations that it will be the mouthpiece of the Salafi trend, to which brothers Hassan belong. This was demonstrated in the issue where statements by the first Coptic potential presidential candidate were published.

The issue also published an objective piece on Sheikh Mohamed Hassan about his controversial views and religious edicts.

The paper does not represent any Islamist movement nor any political party, said Molhem al-Eissawi, editorial general manager of al-Rahma.

"We want to establish a new trend of Islamic journalism that rejects sensationalism and focuses on enlightening the readers," he told Al Arabiya.

Eissawi stressed that the paper is totally independent of Sheikh Mohamed Hassan and that it is funded by his brother and not him.

"The paper does not receive any funding other than the personal money of Mahmoud Hassan."

Eissawi explained that the paper is divided in two parts, the first about political and economic new and the second about different activities in the Egyptian society like sports, culture, and social events. There is also a religious supplement.

Observes expect the two papers to be the mouthpieces of the silent majority that is generally conservative and is looking for a decent press but does not necessarily belong to one political trend or another.

(This article was translated from Arabic by Sonia Farid)