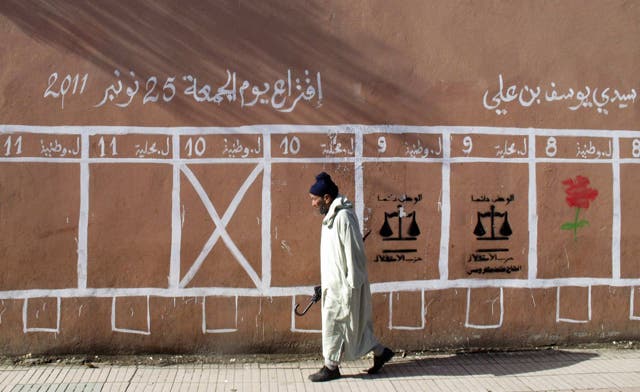 Correspondent's Outtakes: Notes from Tangier ahead of the elections
Banners, placards and posters are almost everywhere in Tangier ahead of a crucial poll in Morocco expected to take place on Nov. 25.

Moderate Islamists (PJD) are expecting to garner a good share of the votes although the turnout is, according to many observers, uncertain amidst protests and calls for boycott.

The February 20 reform movement consisting initially of independent young protesters which was later joined by left-wing trends and Islamic fundamentalists, has been taking to the streets calling for a boycott. They see this election as a painkiller which only "defuses the pressure on the state" as said by an activist who spoke to Al Arabiya.

At a rally last Sunday in Tangier, the largest to be held in Morocco since electoral campaigning began, demonstrators could be heard chanting "we are not voting because we are not cattle" as well as "long live the people."
To challenge what has been labeled a "nihilistic and defeatist spirit", activists representing different civil society groups are trying in a last ditch effort, to galvanize voters into participating in the poll.

The most recent call in this regard came from the coalition for the civil society in Tangier which is touring the city's popular areas day in day out to urge the electorate to take part in the poll to open new horizons for "their children and the country."

The president of the coalition Othman al-Marnissi told Al Arabiya that his group was an independent one that wanted the "vote sanction."

Those who do want to participate do so because they see it as a golden opportunity for the kingdom to become more democratic thanks partly to the amendments in the constitution.

With each group clinging firmly to its positions; fears for a low turnout are getting higher.

The turnout in the last parliamentary elections in 2007 was around 37 percent which portrayed clear public apathy. The rainy weather prevailing in the northern parts of the country forebears fears of a low turnout, namely in rural parts of the country. Like the weather the campaign seems bleak and cold owing to a wide range of factors.

A hasty preparation for the poll by the state will end as it began, on a weak note says Dr. Hassan al-Jammai, a law university professor in Tangier

As for the press, the challenge is clear: The low turnout remains "the great fear" but "the great uncertainty" may dominate the headlines.