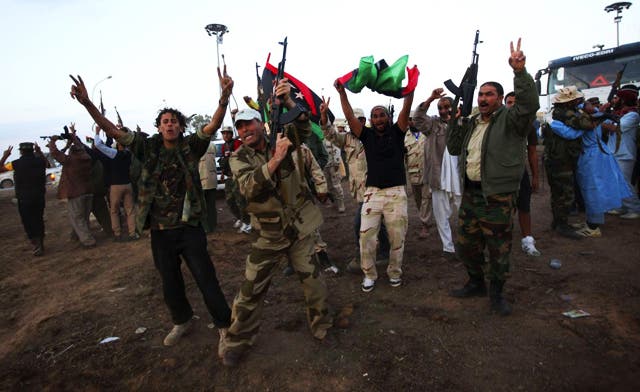 Fresh clashes in Libya's Bani Walid; U.N. says 7,000 held in militia prisons
Clashes between loyalists of Muammar Qaddafi's regime and Libyan troops on Wednesday left seven dead in Bani Walid, one of the slain dictator's last bastions of support, a government official said.

"The clashes left seven people dead, five of them among the thwar (revolutionaries) from Souk Jomaa," a neighborhood of Tripoli, National Transitional Council (NTC) member Mahmud Warfalli said in comments carried by AFP said.

The fighting began after new regime troops, some of them civilian volunteers in the former rebel army, were involved in a high-speed chase with a suspect vehicle in which a Qaddafi loyalist was killed.
NTC chairman Mustafa Abdel Jalil did not comment on the number of casualties but confirmed the clashes occurred.
Bani Walid, some 170 kilometers (110 miles) southeast of Tripoli, was a major recruitment ground for the elite forces of Qaddafi's regime.

During the unrest, the battle for anti-Qaddafi fighters to claim Bani Walid cost many lives; it was the penultimate city to be captured by new regime forces just days before the fall of Qaddafi's hometown Sirte last month.

Despite a new government line-up in Tripoli, which drew praise from Washington on Wednesday, a United Nations report has revealed that some 7,000 people, are being held in Libyan detention centers controlled by "revolutionary brigade" militias.

Foreigners and many women and children are among the detainees, a report by U.N. Secretary General Ban Ki-moon ahead of a Security Council meeting Monday on Libya's reconstruction after the death of dictator Muammar Qaddafi.

Some of the detainees have allegedly been tortured, the report notes. The estimated 7,000 are new detainees, which have no access to courts "in the absence of a functioning police and judiciary," said the report.

The U.N. said that a large number of those held are sub-Saharan Africans accused or suspected of being Qaddafi mercenaries.

"Some detainees have reportedly been subjected to torture or ill treatment. Cases have been reported of individuals being targeted because of the color of their skin," Ban's report said.

The largely tribal-based "revolutionary brigades" united to force Qaddafi out of power but have retained significant control in their own regions, according to diplomats and U.N. officials. But the report noted that the NTC has begun to take over from the militias although "much remains to be done to regularize detention, prevent abuse and bring about the release of those whose detention should not be prolonged."

Meanwhile, U.S. Secretary of State Hillary Clinton welcomed the new cabinet, announced on Tuesday, and vowed that Washington would work closely with it.

"The formation of a new cabinet by the (National Transitional Council) is a significant step in Libya"s transition to a true democracy that is inclusive and representative of all Libyans," she said in a statement.

But she highlighted the need to consolidate "control over militias" as well as "ensuring a functioning and credible government and preparing for the transition to an elected government."