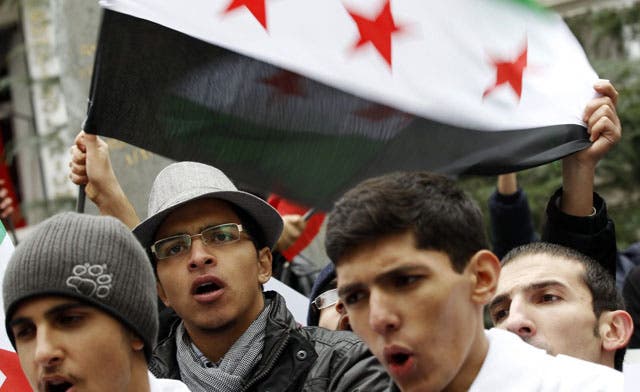 More civilians killed by Syrian forces; U.N. voices alarm at torture of children
Syrian security forces on Friday pressed a months-long crackdown on dissent, killing scores of more people with gunfire as protesters flooded the streets, activists said as the United Nations voiced fresh alarm at reports of torture of civilians including children in Syria.

Syrian activists told Al Arabiya that security forces opened fire on demonstrators, killing as many as 33 civilians, at various flashpoints in the south, center and east of the country.

Meanwhile, Syria's military said that 10 of its personnel, including six pilots, were killed in "terrorist" attack, which it said proved there was foreign involvement in the eight-month revolt against President Bashar al-Assad's rule.
"An armed terrorist group undertook an evil assassination plot that martyred six pilots, a technical officer and three other personnel on an air force base between Homs and Palmyra, "the military spokesman said on state television.

"This confirms the involvement of foreign elements and their support of these terrorist operations in an effort to weaken the fighting capabilities of our forces. "

The attack was claimed on Thursday by the rebel Free Syrian Army who said seven military pilots were killed in an ambush on a bus.

Internet activists had called for a day of massive protests nationwide in support of the rebel Syrian Free Army (SFA) which has stepped up attacks in a bid to topple the regime, according to AFP.

"The Free Army is the guardian of our peaceful revolution, "anti-regime activists said on their Facebook site Syria Revolution 2011.

Like most Fridays since the start of the pro-democracy movement in mid-March, protesters emerged from midday prayers to face security forces who bolstered their deployment at key centers of dissent.

The official SANA news agency, meanwhile, reported that two experts were killed trying to defuse a bomb in the restive city of Hama, in central Syria, accusing "armed terrorist groups" of planting the device.

The state-run agency, quoting a police source, said three other bombs exploded in Hama.

According to the Syrian Observatory for Human Rights, huge protests took place across Idlib on Friday, mainly in Maaret Noman where demonstrators called for the "fall of the regime."

But SANA said massive counter-rallies were held in Damascus and Syria's second city Aleppo, with protesters denouncing Arab League decisions against Syria and vowing to confront "the conspiracy" facing their nation.
U.N. alarmed at reports of executions and torture
Meanwhile, the United Nations voiced fresh alarm on Friday at consistent reports of executions and torture of civilians including children in Syria as well as killings of demonstrators in pro-democracy rallies, according to Reuters.

The U.N. Committee against Torture cited "rife or systematic attacks against (the) civilian population, including the killing of peaceful demonstrators."

More than 3,500 people have been killed since March, according to the United Nations, and activists say that more than 30,000 have been arrested, including families of dissidents.

The U.N. committee said reports of children suffering torture and mutilation during detention were of particular concern, and that Syrian authorities had been acting with total impunity in what it called "gross and pervasive" human rights violations.

The committee, composed of 10 independent experts, called on the government of President Assad to report back by March 9 on measures taken to halt abuses which it said were "allegedly conducted under direct orders from public authorities. "

The committee's chairman, Claudio Grossman, also voiced concern for the "extrajudicial, summary or arbitrary executions, arbitrary detention by the police forces and the military; and enforced and involuntary disappearances. "

Grossman, an expert from Chile, told a news briefing: "Needless to say the serious massive violations of human rights take place in a context of total and absolute impunity. There haven't been investigations on this matter. "