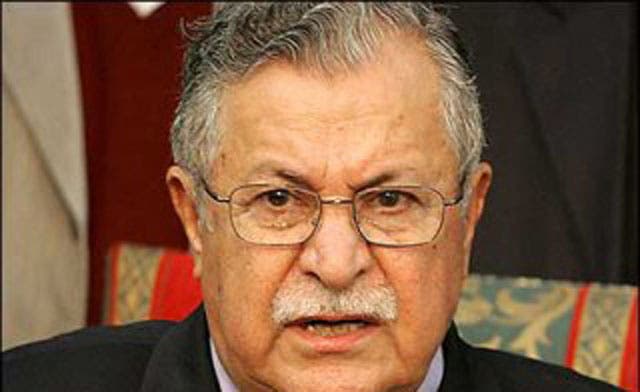 Iraq leader worried about 'radical' threat in Syria
Iraqi President Jalal Talabani said on Friday he worries that "radicals" might take power in neighboring Syria and opposes any Western or Turkish military intervention.

Talabani also said Iraqi military commanders favored a continued U.S. troop presence in Iraq due to weaknesses in air and naval defenses.

In an interview with Iraqiya state television, Talabani said he supported peaceful political action and the democratic reforms Syrians are seeking.

"Frankly speaking, we are worried that radicals may replace the old (current) regime. We are afraid that radicals will reach power and antagonize democracy in Iraq," Talabani said. "This would be contrary to the main goal of the Arabic Spring."
"But we are against Western or Turkish military interference," he added.

Iraqi Prime Minister Nuri al-Maliki last month urged Syria to open up its political system to end one-party Baath rule as Syrian President Bashar al-Assad faces increasing international condemnation over a crackdown on protests.

The United Nations says more than 3,500 people have been killed since March.

Iraq's Shiite leaders are concerned that turmoil in Syria could bring a hardline Sunni leader to power should Assad fall.

On the issue of U.S troops in Iraq, Talabani said numerous reports from Iraq's military leaders detailed serious deficiencies in the air force, navy and infantry.

"All these reports show that Iraq needs a U.S presence after 2011, at least as trainers, because they will be able to protect our air space and shores, and help Iraqis on how to use the new weapons that we got from the Americans," he said.

Talabani said Maliki would try to make a deal for trainers from private companies rather than the U.S. military when he visits Washington in December.

He said another possibility was to arrange for European trainers to train Iraqis on U.S. weapons systems.

The remaining American troops, about 18,000, are scheduled to leave Iraq by the end of next month, nearly nine years after the invasion that toppled Saddam Hussein.

Washington and Baghdad were unable to reach agreement to keep thousands of U.S. troops in Iraq beyond year-end. Talks stumbled over the issue of legal safeguards for the soldiers.

About 750 American trainers, almost all of them civilians, are expected to stay, along with nearly 200 U.S. military personnel attached to the U.S. embassy.

Iraqi officials say their security forces are able to handle a still lethal Sunni insurgency and Shi'ite militias responsible for hundreds of attacks each month. But they concede serious weaknesses in the air force, border control and other defense against external threats.