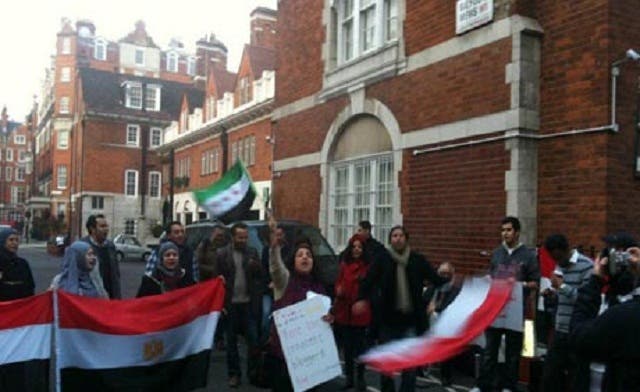 Egyptian expatriates vote, but not all of their compatriots are happy about their patriotism
Egyptians may have only begun voting in the country's post-revolutionary elections this week, but those abroad have already had their chance at the polls.

But just as the electoral process was criticized as being complicated for those inside the country, Egyptian expats have also had to face tricky, unorganized procedures, which may have resulted in fewer people voting.

In Kuwait, voters were told by the Egyptian embassy to print out a voting doucment from the election website and deliver it to the embassy by mail or by hand.
"An embassy official told me that the mechanism is still not clear to them, they still have no clue about the logistics or who will be authorized to receive the voters' envelopes ... and we are already 24 hours into the process," said Ahmed Al-Dabea, an Egyptian economist in Kuwait.

Some Egyptians learned that polls had opened through social media sites such as Facebook and Twitter.

In Saudi Arabia, Kuwait, Qatar and the United Arab Emirates, the total number of votes reached 38,000, Ahmed Ragheb, assistant foreign minister for expatriate affairs, told Egyptian newspaper al-Ahram on Sunday – the day expatriate polls for Egyptians around the world closed.

Saudi Arabia topped the number of votes in these Gulf states, which amounted to 20,000 through Sunday morning.

In other parts of the world, the United States tallied 1,500 votes, while Australia recorded 1,890 votes.

Inan Suwabi, an American-Egyptian, made it from North Carolina to Washington, D.C., to vote, bringing with her at least 73 voting envelopes representing fellow church members. Upon arriving at the embassy, she told National Public Radio, "Egypt is my country, and I feel this is loyalty to do this and do it for our families in Egypt."

In Germany 1,327 Egyptians voted at the embassy in Berlin, but only 609 votes were validated by the embassy, as the rest contained errors and were disqualified during the tallying process.

"Around 106,000 Egyptians have already voted in the first stage out of 160,000 eligible voters," said Ahmed Ragheb, assistant foreign minister for expatriate affairs, hours before the deadline.

The patriotism demonstrated by the turnout of expat voters, most of whom are taking part in their first electoral process, hasn't been without controversy. Political groups in Egypt have stated their disappointment with the way voting abroad has been handled by Egyptian embassies, calling for expat votes to be annulled.

"We have filed a complaint with the Supreme Elections Committee to annul the votes already cast. We also want to suspend the whole voting process abroad," Talaat Mrazouk, legal advisor for Salafist party Al-Nour, told al-Ahram on the last day of voting, referring to claims made earlier by the party that voting in some Arab Gulf countries was carried out without the supervision of an embassy representative.

On Wednesday, the Muslim Brotherhood, which is Egypt's largest and best organized political group and which is running under the Freedom and Justice Party banner, claimed the lead in the first leg of the country's historical elections, capturing 40 percent of the vote. However a more recent report from Al-Shurouq daily newspaper stated that Al-Nour, an offspring of the Muslim Brotherhood that follows a much stricter rule of Islam, has emerged with 20 percent of the vote, causing a stir among secularists.

A run-off vote will be held on December 5, with two more phases of the elections remaining, including a run-off vote for each of the phases.

Most analysts say it is too early to predict a clear winner for the parliamentary elections. Results of the regions that voted are expected Thursday evening.