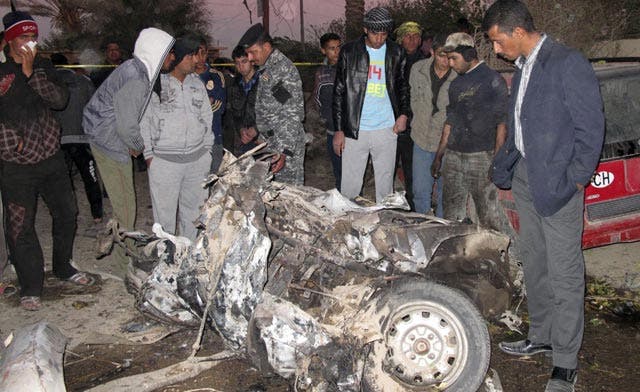 Bombs targeting Shiite pilgrims during Ashura ritual kill 28 in Iraq
Three bombs tore through crowds of Shiite pilgrims celebrating a major ritual in Iraq's Hilla city on Monday, killing least 28 - mostly women and children - and wounding 78 more, local police and witnesses said.

The attacks, at the height of Ashura, which commemorates the death of Prophet Mohammad's grandson Imam Hussein who was killed by armies of the caliph Yazid in 680 AD, underscored Iraq's fragile security as the last U.S. troops withdraw from the country in less than a month.

In the first attack, a car bomb blasted the end of one Shiite procession, killing 16 mainly women and children, wounding 45 others and leaving bloody pools, shoes and tore clothes scattered across the street, police and witnesses said.
"A powerful and horrible explosion went off behind us, smoke filled the area," said Hadi al-Mamouri, who was taking part in the ritual. "I could only hear the screams of women and I could only see the bodies of women and children on the street."

A second attack involving two roadside bombs killed at least six more people at another procession in Hilla and wounded 15 more, police sources said.

Baghdad was also hit by bomb attacks against Shiite pilgrims, with at least 10 people killed and 30 wounded.


The attacks came as the last 10,000 American troops prepare to withdraw by the end of 2011, more than eight years after the invasion that ousted Sunni dictator Saddam Hussein and allowed the country's Shiite majority to ascend.

On Monday, an Iraqi Sunni Muslim insurgent group with links to Hussein's banned Baath party vowed to continue attacks on U.S. personnel staying in Iraq even after troops withdraw.

Sunni Islamist insurgents often target Shiite shrines and ceremonies in an attempt to inflame sectarian tensions still simmering close to the surface in Iraq.

Violence has eased sharply since its worst years in 2006-2007 when Sunni and Shiite armed groups killed thousands in intercommunal assassinations and bombings. But Sunni insurgents and Shiite militias still carry out deadly attacks. A total of 187 people were killed in November, according to official figures.

Iraq's security forces say they are generally ready to contain the stubborn insurgencies, but they acknowledge gaps in their abilities such as air defense and intelligence gathering once the American military depart.