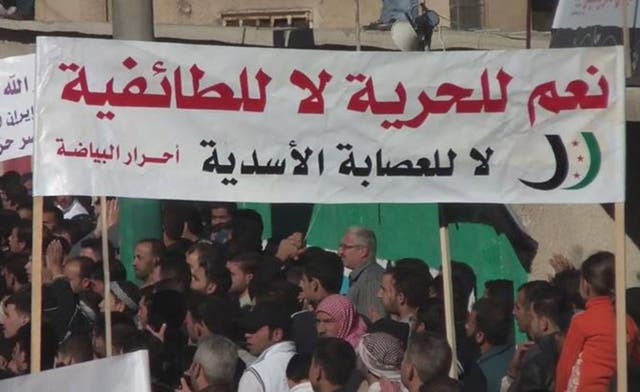 Arab League rebuffs Damascus as Clinton to meet Syrian opposition in Geneva
The Arab League said it won't lift sanctions imposed on Syria, after President Bashar al-Assad's government demanded the removal of the league's punitive measures as a condition for admitting observers.

Meanwhile, U.S. Secretary of State Hillary Clinton is expected to meet members of the Syrian opposition in Geneva, as a rights group reported militiamen loyal to the regime killed 34 civilians and dumped their bodies in a city square.

Syria is attempting to bargain with the Arab League, which imposed sanctions in response to Assad's crackdown on opposition. "The government would agree to let in Arab League observers provided the bloc restored Syrian membership and ended the sanctions in an agreement signed in Damascus," Foreign Minister Walid al-Muallem said in a letter to the group, according to the official Syrian Arab News Agency.
"That response will not lead to suspending Arab sanctions on Syria," Arab League Secretary-General Nabil al-Arabi said, according to a report carried by Egypt's state-run Middle East News Agency late Monday.

The league on Dec. 3 ordered a freeze on the assets of 19 Syrian officials, a ban on their travel and a reduction in flights to Syria if the government refuses to admit international monitors, release political prisoners and end its crackdown on protests. Half of air travel between Syria and Arab League states will be cut starting Dec. 15, the league said.
Accepting observers under condition
Syria had initially refused to sign an Arab proposal to send in observers to monitor its forces accused of rights violations by the U.N., which says that more than 4,000 people have been killed since March in a protest crackdown.

But in a letter sent to the Cairo-based Arab League late earlier on Sunday as a League deadline was set to expire, President Assad's regime said it will accept monitors if its conditions are met.

"The Syrian government responded positively to the signing of the protocol" on sending observers "based on the Syrian understanding of this cooperation," Syrian foreign ministry spokesman Jihad Makdisi told reporters, according to AFP.

While confirming the receipt of a Syrian government letter outlining the about-face, Arabi said it contained "new demands."

"We've contacted Arab foreign ministers and they have been apprised of the Syrian letter," Arabi said, adding that consultations were under way.

Damascus has refused to sign, arguing the text undermines its sovereignty, prompting the Arab League to slap Syria with sweeping sanctions on Nov. 27 including a halt on transactions with Damascus and its central bank.

The sanctions announced on Saturday put 19 officials on a blacklist for travel to Arab states and froze their assets in those countries, while calling for an arms embargo and halving Arab flights into and out of Syria.

Syria has already been hit by a raft of EU and U.S. sanctions, and last Friday the U.N. Human Rights Council passed a resolution "strongly condemning the continued widespread, systematic and gross violations of human rights and fundamental freedoms by the Syrian authorities."

Damascus -- which accuses "armed terrorist groups" of fuelling the unrest -- rejected the resolution as "unjust" and said it was "prepared in advance by parties hostile to Syria."
Clinton to meet opposition
Meanwhile, U.S. Secretary of State Hillary Clinton will meet members of the Syrian opposition in Geneva on Tuesday in a gesture of support for them in the face of an eight-month crackdown by Syrian Assad.

U.S. officials said Clinton would meet seven opposition members in Geneva, where she is to give a speech on human rights. It will be her second such meeting in six months, following a similar gathering in Washington in July, according to Reuters.

The United States, the European Union and Turkey have all imposed sanctions on Syria for the violence and the Arab League has announced plans to do so to try to pressure Assad to end the violence.

U.S. officials offered no further details on Clinton's planned meeting, which will take place on the second day of a five-nation trip to Europe.
Total suspends oil operations in Syria
French oil company Total, meanwhile, said it was suspending its operations in Syria in line with EU sanctions, which indirectly target its local partner.

"We have informed the Syrian authorities of our decision to halt our operations with GPC (General Petroleum Corporation) in order to comply with sanctions," the company said in a statement.
More atrocities committed
Despite Damascus' offer to accept observers, a rights group accused forces loyal to Assad of committing even more atrocities, saying witnesses reported seeing the bodies of 34 civilians in a square in the central city of Homs.

The Britain-based Syrian Observatory for Human Rights said one activist reported seeing "the bodies of 34 civilians, in a square in the pro-regime neighborhood of al-Zahra, who had been abducted by the shabiha on Monday."

The civilians, it said, had been seized from several "anti-regime neighborhoods" in Homs, which has been targeted by a brutal crackdown on almost nine months of anti-regime dissent.

The Observatory also reported the so-called "shabiha" militiamen on Monday abducted a bus driver and his 13 passengers in Homs province.

Forces loyal to Assad have laid siege to Homs for the past two months.

Seven people were reported killed in the city and province on Monday by gunfire from the security forces, the Observatory said, after a bloody weekend that saw 63 people dead, at least half of them in Homs.

Elsewhere on Monday, mutinous soldiers killed four members of the security forces, including an officer, at the southern protest hub of Dael in Deraa province, the watchdog said.

The Observatory also accused security forces of arresting 18 students on Monday, eight of them for insulting the president.

The U.N. Human Rights Councils independent commission of inquiry last week said its probe found that Syrian military and security forces had committed gross violations of human rights, adding that it's gravely concerned that crimes against humanity have been committed throughout the country.