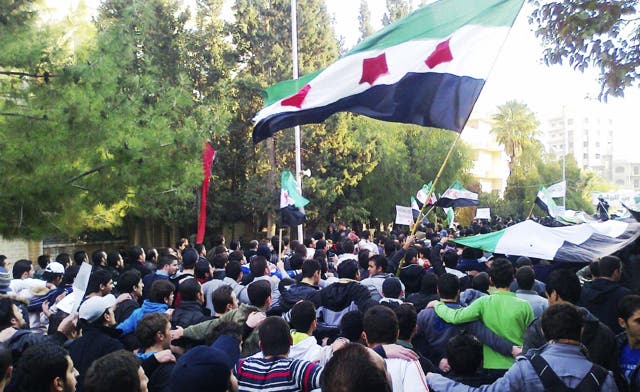 Arab taskforce on Syria to meet Saturday; Iraq to hold talks on Arab League deal
Arab League ministers will meet this weekend to mull a response to Syria which wants the bloc to lift sanctions as its price to allow observers to monitor deadly unrest, an Arab diplomat said Thursday.

A taskforce chaired by Qatari Prime Minister Sheikh Hamad bin Jassem Al-Thani and comprising the foreign ministers of Algeria, Egypt, Oman and Sudan will gather in Doha with Arab League chief Nabil al-Arabi.

Syria said on Sunday it will allow observers into the country as part of an Arab peace plan to end months of violence, in a bid to avoid sweeping sanctions the bloc has decided to impose on the Damascus regime.

But Foreign Minister Walid Muallem, in a letter to Arabi, said Syria would accept the monitors under certain conditions.

According to the text, published in the Syrian press on Tuesday, Muallem demanded the complete overturn of sanctions approved by the Arab League on Nov. 27.

"The government considers all decisions taken by the Arab League... including Syria's suspension and the sanctions taken by the ministerial committee against it, to be null and void once Damascus signs the protocol" for observers, said the text.
Syria-Iraq talks
Iraq, meanwhile, has said it will hold talks with Syria to implement an Arab League initiative to send observers to monitor the country's unrest, the bloc's chief and Baghdad's foreign minister said on Thursday.

"The Iraqi government told us that it will carry out contacts with the Syrian government to resolve this issue," Arabi said at a joint news conference in Baghdad with Iraqi Foreign Minister Hoshyar Zebari in comments carried by AFP.

"Now it is up to Syria; the ball is in the Syrian court. It's up to them. If they want to stop the economic sanctions, they (must) sign," said Arabi.

"We will exert efforts and discuss with the Syrian government how to remove all the obstacles facing this initiative," Zebari added.

Last month, nineteen Arab League members voted for economic sanctions on Syria in a bid to tackle the Syrian government's deadly crackdown on protests, but Iraq abstained and said it would refuse to implement them, while Lebanon "disassociated itself," Qatar's Sheikh Hamad said on Nov. 27.

Iraq's close trade ties with Syria, from which it imports significant amounts of foodstuffs, had been a major player in their refusal of the sanctions.

The sanctions included an immediate freeze on transactions with Damascus and its central bank and of Syrian regime assets in Arab countries.

The Arab bloc also requested that international observers were sent to monitor the unrest, which has left more than 4,000 people have been killed across Syria since the unrest in Syria erupted in mid-March, according to United Nations estimates.

But in an interview with ABC's Barbara Walters on Wednesday the embattled Syrian president Bashar al-Assad said he will not allow Arab League observers unfettered access to monitor the crackdown.

Assad said: "They cannot just come and do whatever they want." He said monitoring visits could only take place "in cooperation with the Syrian government."

He also denied that the unrest in Syria amounted to a civil war.
Now it is up to Syria; the ball is in the Syrian court. It's up to them. If they want to stop the economic sanctions, they (must) sign

Arab League chief Nabil al-Arabi
U.N. rights chief asked to address Security Council
Meanwhile, France, Britain and Germany want U.N. rights chief Navi Pillay to discuss Syria's brutal crackdown on pro-democracy supporters before the U.N. Security Council, diplomats said Thursday.

The council is planning a procedural vote to approve Pillay's presentation, with passage requiring votes from nine of the council's 15 members.

"It will be useful because it will allow the Security Council to examine its own responsibilities" with respect to the crisis, said a U.N. official speaking on condition of anonymity.

On Oct. 4, the council failed to reach agreement on Syrian President Bashar al-Assad's crackdown, with Russia and China using their veto while Brazil, India, South Africa and Lebanon abstained.