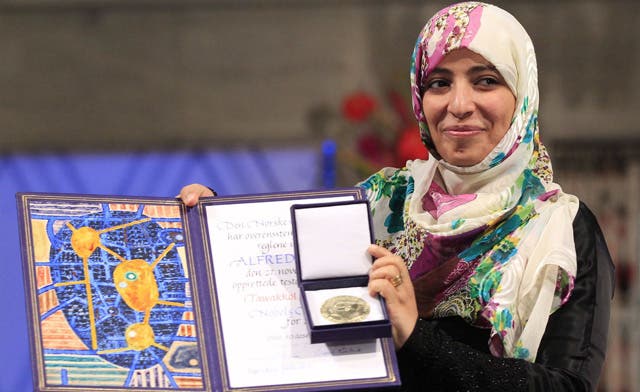 Nobel Peace Prize winner blasts lack of support for Yemen uprising
The international community has not provided enough support for the uprising in Yemen, "Arab Spring" activist Tawakkul Karman lamented after receiving the Nobel Peace Prize in Oslo on Saturday.

The activist who spent months camped out in Sana'a's Change Square and helped push 33-year-ruler Ali Abdullah Saleh to agree to step down early next year said the struggle for democracy in her country "did not get the international understanding, support or attention of the other revolutions in the region.

"This should haunt the world's conscience," said the 32-year-old mother of three in her speech after becoming the youngest person to ever win the Peace Prize and the first Arab woman to receive a Nobel in any category.

An English translation of her speech given in Arabic called on the "democratic world, which has told us a lot about the virtues of democracy and good governance," to support people struggling for freedom.
She hinted the West should not fear that the Arab Spring uprisings that have swept through the Middle East with demands for democracy will lead to instability and extremism, saying that "all of that is just hard labor during the birth of democracy which requires support and assistance, not fear and caution."

Her comments came as Yemen's national unity government, led by the opposition, was sworn in Saturday to lead the country for a three-month transition period until Saleh formally steps down in February.

Karman shared the 2011 honor with Liberian President Ellen Johnson Sirleaf and Liberian "peace warrior" Leymah Gbowee for their "struggle for human rights in general and the struggle of women for equality and peace in particular," in the words of Nobel Committee Chairman Thorbjoern Jagland.

They each received a gold medal, diploma and a third of the 10 million Swedish kronor ($1.48 million, 1.08 million euros) prize money.