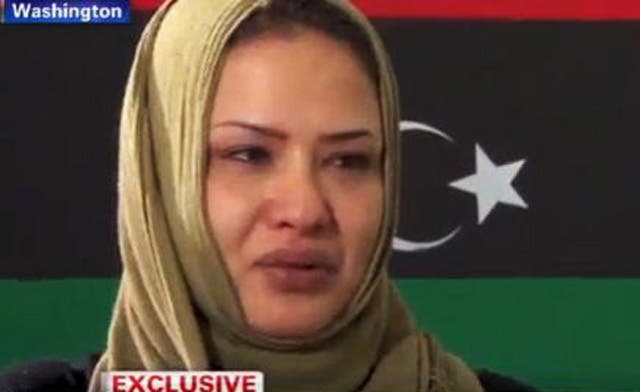 Libya's Eman al-Obeidi speaks to Western media after her arrival in the U.S.
Eman al-Obeidi, the Libyan woman who came under international spotlight for storming into a room full of journalists in Tripoli in March alleging sexual assault by forces of Muammar Qaddafi, has given her first interview to American television after arriving in the country as a refugee four months ago.

She told CNN on Friday that she arrived in the United States after borrowing money to buy a one way ticket and $40 in her pocket, and that life has been really rough for her since.

"When I came, I never imagined that life could be this hard," she said. "You have to kill yourself working just to survive, and I wish there was work in the state where I am [but] there are no work opportunities. I have been going to the employment office for four months," she said.
After charging Qaddafi's men of gang-rape, sodomy and assault, she had to face a litany of abuse from members of his regime, including being called a "whore" and "drunken woman".

Obeidi had to leave Libya after her accusations for safety reasons and what she called was the constant "daily humiliation" as and when she presented her identification cards to Libyan officials.

With the help of the U.S. Secretary of State Hillary Clinton, Obeidi managed to reach the United States after spending 54 days in a U.N. High Commissioner for Refugees in Romania when she arrived in June.

"My family helps me; without their aid I wouldn't be able to survive," she said, adding that"$300 a month cannot do anything."

Obeidi said that "everyone would like to return to their own country" but she is not ready to go back.

"I am not ready to integrate back into society."

Obeidi's case is considered to be one of the most high profile cases of sexual assault in Libya during the uprising.

International Criminal Court prosecutor Luis Moreno Ocampo said he has evidence indicating that hundreds of women were raped during the eight-month long Libyan uprising and has promised to examine allegations of crimes committed by all sides.

In May, the ICC said that it will investigate reports that Qaddafi forces took Viagra pills in a bid to rape as many women as possible.