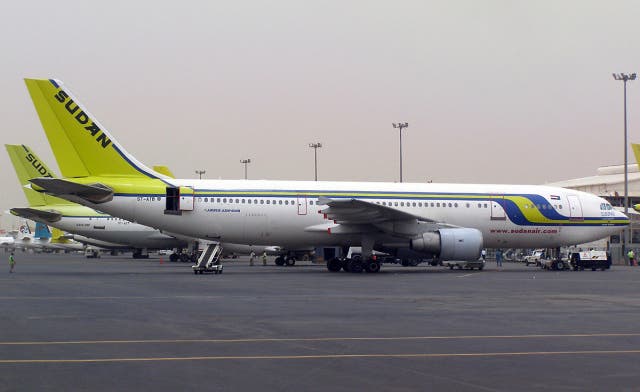 'Sanctions are hell' for Sudan Airways which struggles to survive
When Sudan Airways General Manager al-Obeid Fadhl al-Moula starts listing the problems of the ailing state carrier, it takes him quite a time to finish.

One of the oldest African airlines that used to fly across the continent and as far away as London, Frankfurt and Amsterdam, Sudan Airways is a shadow of its former self.

It has been worn down by years of U.S. sanctions, financial troubles and mismanagement -- problems that have beset much of the north African country facing a severe economic crisis, especially since oil-rich South Sudan seceded this year.

Largely shut off from the airline manufacturing industry by a U.S. trade embargo, Sudan Airways is down to six Airbus, Boeing and Fokker aircraft -- most of them 15 years old.
Passengers are often stranded for hours or days when airplanes are grounded for technical failures or break down on the way to the runway. Some of those who actually take off pray for a safe landing after several crashes in past years.

"Sanctions are hell for everything, for maintenance, for spare parts," Moula told Reuters in an interview in the carrier's headquarters near Khartoum airport.

"All the problems we have are with the fleet. All the time, there is a problem. I do get (spare parts) through friends and companies. (But) it's in the market, you have to pay much more," he said, his cell phones ringing non-stop.

Washington placed sanctions on Sudan in 1993, listing Khartoum as state sponsor of terrorism for hosting prominent militants including Osama bin Laden and Carlos the Jackal. It added a trade embargo in 1997.

The government has long been trying to overhaul the carrier, founded during the British colonial era in the late 1940s, with the help of outside investors.

But Kuwaiti investment firm Aref Investment Group, which took a 49 percent stake when the government privatized 70 percent of the airline in 2007, has since withdrawn, selling its holding back to the state this year.

"Now Sudan Airways has (gone) back to the government. Now the idea is to have an operator, before it was an investor," Moula said.

Moula is confident a new investor will try his luck.

The government is in talks with two foreign financial investors and two foreign airlines, including Egyptair.

"We have four candidates ... All of them are from the Middle East," he said, adding that the size of the stake on offer was flexible.

Any investor would inherit a large state firm with 1,700 staff, a potential burden since locals are difficult to fire under Sudanese labor laws.

Banned from the European Union due to its poor technical record, Sudan Airways serves around 16 foreign destinations in Africa, the Gulf and Middle East. Khartoum to Kano in Nigeria is the longest flight on offer.

Despite its problems, Moula sees Sudan as a huge aviation growth market, pointing out that in 2002 only five airlines flew to Khartoum.

"Now we have 35 airlines," he said. "Last year we transported 167,000 (domestic passengers). This year we move 260,000," he said.

"Khartoum could be a hub for all Africa."