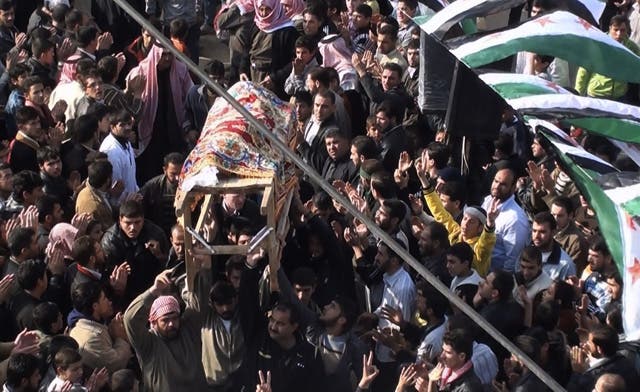 Arab monitors arrive in Syria amid Homs carnage; opposition calls for U.N. intervention
The head of the Arab League's monitoring mission seeking an end to violent repression in Syria said on Monday he met several government officials who have been cooperative and said access had been unfettered "so far".

Sudanese General Mustafa Daby, who arrived in Damascus on Saturday, is leading a team of observers that will check whether Syria is implementing part of an Arab peace plan requiring it to pull out of civilian areas and put an end to bloodshed.

"We are in Damascus now and have started our mission and will head to other cities faster than you think," Daby told Reuters by telephone. "Our Syrian brothers are cooperating very well and without any restrictions so far."

The first group of Arab monitors arrived on Monday "at about 8 p.m.," said a source, who was speaking by telephone from Damascus after meeting the monitors at the airport.

Fifty monitors and 10 officials from the Arab League secretariat were flying on a private Egyptian airplane, a Cairo airport source said before the aircraft took off. The observer mission will eventually include about 150 people, League Secretary-General Nabil al-Araby told Reuters last week.

Daby said the Syrians would be providing transportation for the monitoring mission, a move which may rile the Syrian opposition and spark accusations of censorship.

Arab League delegates have said they will try to maintain an element of surprise by only announcing the specific areas they would visit on the same day of their departure.

The general said he had already met the foreign minister and his deputy, as well as several officials from the armed forces.

He warned those watching the mission not to jump to conclusions about the results of the monitoring mission.

"Give us some time, we just got here."

But the head of the Syrian National Council, Burhan Ghaliun, said that the observers were in Homs but are unable to do their job, according to a report in AFP.

He was quoted as saying the monitors were in the besieged city "but they are saying they cannot go where the authorities do not want them to go."

"It is better if the U.N. Security Council takes this (Arab League) plan, adopts it and provides the means for its application," Ghaliun said. "That would give it more force."

The Arab "plan to defuse the crisis is a good plan, but I do not believe the Arab League really has the means" to enforce it, he said.

"The observers are working in conditions that the Arab League has described as not being good ... I think we have not properly negotiated the working conditions of the observers," Ghaliun added.

He also sought U.N. and Arab League intervention "to put an end to this tragedy," and urged the U.N. Security Council to "adopt the Arab League's plan and ensure that it is applied."

League expectations
Heavy gunfire killed 23 people in the besieged city of Homs on Monday as newly arriving Arab League observers were urged to head immediately to one of the country's most serious hot spots.

An initial group of 50 observers was to land in Syria later Monday to oversee a deal aimed at ending a bloody crackdown on anti-regime dissent, which has showed no signs of abating since erupting in March.

"Rocket fire and heavy machineguns in the Baba Amro quarter killed at least 14 people and wounded dozens," the Britain-based Syrian Observatory for Human Rights said in a statement received by AFP in Nicosia.

"The situation is frightening and the shelling is the most intense of the past three days," it said.

Six civilians died in other parts of the central Syrian city, while another three, including a 14-year-old boy, were shot dead when security forces opened fire on a demonstration in Khattab in neighbouring Hama province.

A first group of Arab League observers are due in Syria Monday to monitor a deal to end nine months of deadly violence as activists report new deaths in the government's crackdown on a nine-month uprising.

Intensive shelling was reported on Bab Amro in Syria on Monday and as many as 23 people have been killed mostly in Homs, Al Arabiya reported citing Syrian activists.

Five days of shelling Bab Amro left 45 people dead and 250 others injured, Syrian activists said.

A source at the mission told Reuters that the team will start its mission in Syria by visiting the turbulent city of Homs on Tuesday. "It also will visit the capital Damascus, Hama and Idlib on Tuesday," the source said.
Carnage in Homs
Amateur video shot by anti-government Syrian activists showed carnage in a Homs city street, and locals said they were afraid to leave their homes on Monday as army tanks appeared to fire machineguns and mortars into residential areas.

Four bodies of what appeared to be male civilians lay bloodied under fallen power lines in a narrow alleyway of the Bab Amr district, their limbs twisted, heads gashed and brains spilling out.

Baba Amr has been one of the hardest hit areas of Homs, a hotbed of revolt since the government began its crackdown on a nine-month-old protest movement seeking President Bashar al-Assad's removal.

"This is Baba Amr, December 26, 2011, and the random shelling is still falling on the neighborhood," a voice shouted over women's screams according to a report by Reuters. "These are the martyrs thrown in the streets," the man's voice shouted.

A third day of heavy gunfire in Syria's flashpoint city killed at least 20 people, the day before an Arab League monitoring mission is expected there, activists said.

The people of Homs are awaiting the arrival of the monitors, who are supposed to determine if Assad is keeping his word by withdrawing the army from civilian areas.

"Where are the Arabs? Where is the international community? This is what happened after mortar rockets fell on our neighborhood," yelled the voice in the video as it panned over a row of crumbling buildings.

"These are the destroyed homes. Allahu akbar, Allahu akbar! The martyrs are in the streets! We can't get an ambulance in."
Roaming tanks
Residents said they were too terrified to venture outside. One described to Reuters a state of siege.

"They've been doing a few surprise rounds of firing every few hours since early morning," construction worker Tamir told Reuters by telephone. "I don't feel hopeful that the Arab League monitors can do anything, they won't help us at all."

"Every time the firing starts, we run down to the basement and wait for it to stop ... I swear to God that we are all cold and hungry here. There's not enough food, there's not enough fuel for heating any more. The area is surrounded by soldiers."

Three other video segments said to have been filmed in Homs on Monday morning showed two tanks facing in opposite directions next to an apartment block. One was firing a heavy weapon, possibly a tank-mounted mortar.

A third tank, its commander standing up in the sand-bagged turret, maneuvered along the street. There were constant bursts of heavy machinegun fire and the sound of sniper rifles.

A third video showing a tank recorded a loud explosion, like the sound of its main gun firing. Finally, after a flash and a loud blast, the screen went white.

"If we go out, we have to stay in the alley our house is on. If we move past there we might get shot at," construction worker Tamir said. "Two people in the neighborhood were just wounded by machineguns."

"We can't rely on the Arab League. The only one we can turn to is God. We've been bearing this for 10 months and they keep giving the government extensions and now finally they brought monitors and then what? More extensions? Until we all die?"

Arab delegation
The Arab mission is headed by Maj. Gen. Mohammed Mustapha al-Daby. The is scheduled to tour Syrian cities in order to prepare a report, to be referred to the Arab League Secretariat as well as the Syrian government, according to Al Arabiya.

The mission is part of an Arab plan endorsed by Syria on Nov. 2 that also calls for the withdrawal of the military from towns and residential districts, a halt to violence against civilians and the release of detainees.

But since signing the agreement, the Assad regime has been accused of pressing on with its crackdown on dissent.

Meanwhile, Tunisian President Moncef al-Marzouqi called on the Syrian opposition to give the chance for President Bashar al-Assad to leave the country peacefully.

In an interview with the London-based Asharq al-Awsat daily, Marzouqi said "they shouldn't encircle the wounded tiger for the four sides….he should have a way out. He should be frankly told that he has only one month to leave power peacefully."

Marzouqi also said that in case of Assad's departure, he should not be referred to the International Criminal Court.