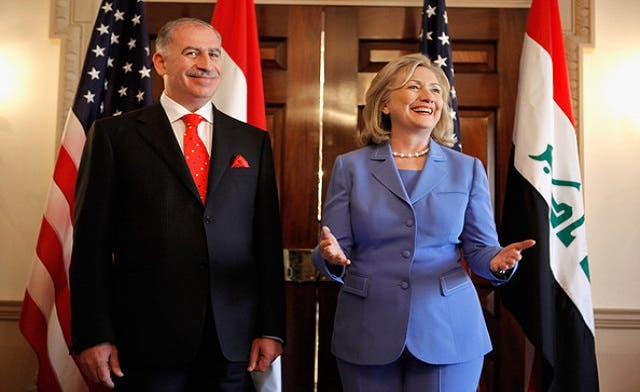 Iraq row festers as speaker denies writing editorial
A political row festered in Iraq on Friday, as a top Sunni leader denied he penned a commentary criticizing the Shiite-led government, the latest in a crisis that has stoked sectarian tensions.

Since the departure of U.S. troops less than two weeks ago, Iraq has plummeted into a political standoff, with authorities having charged Sunni Vice President Tareq al-Hashemi with running a death squad and premier Nuri al-Maliki calling for his Sunni deputy Saleh al-Mutlak to be sacked.

Mutlak and Hashemi's Sunni-backed Iraqiya party has boycotted parliament and cabinet, and on Wednesday, the New York Times ran a piece by three Iraqiya leaders ─ Finance Minister Rafa al-Essawi, parliament speaker Osama al-Nujaifi and Iraqiya leader Iyad Allawi ─ sharply critical of Maliki's administration.

Nujaifi, however, has since said his name was added to the piece without his knowledge.

"The article published in the New York Times ... has been written without the knowledge of speaker Nujaifi," said a statement issued by his office late on Thursday.
It added that his name was "inserted in an attempt by some people to diminish the importance of his (Nujaifi's) leadership." The statement did not give further details.

Nujaifi, his spokesman and Iraqiya spokespeople did not respond to AFP requests for comment.

The op-ed had accused Maliki, a religious Shiite, of using security forces and the judiciary to hound his mainly Sunni opponents.

"The prize, for which so many American soldiers believed they were fighting, was a functioning democratic and nonsectarian state," the piece said.

"But Iraq is now moving in the opposite direction ─ toward a sectarian autocracy that carries with it the threat of devastating civil war."

The support of Iraqiya ─ which narrowly won a 2010 poll and garnered most of its seats in Sunni areas, is seen as vital to preventing a resurgence of violence.

The Sunni Arab minority dominated Saddam Hussein's regime and was the bedrock of the anti-U.S. insurgency after the 2003 invasion.

Maliki's spokesman Ali Mussawi welcomed Nujaifi's comments distancing himself from the piece, telling AFP that it "indicates the desire of Nujaifi and his ability to play a national, active, serious role."

Mussawi said the editorial was "far from reality, national spirit and responsible feelings."

Iraq's political row, which erupted on December 17, the day before U.S. forces completed their withdrawal from the country, has shown little sign of improvement since.

Maliki has refused mediation over Hashemi's arrest warrant and called for the autonomous northern Kurdish region, where the vice president is holed up, to hand him over.

Hashemi, by contrast, claims the judiciary has become politicized, and has refused to return to Baghdad, but says he will face trial if it is held in Kurdistan.