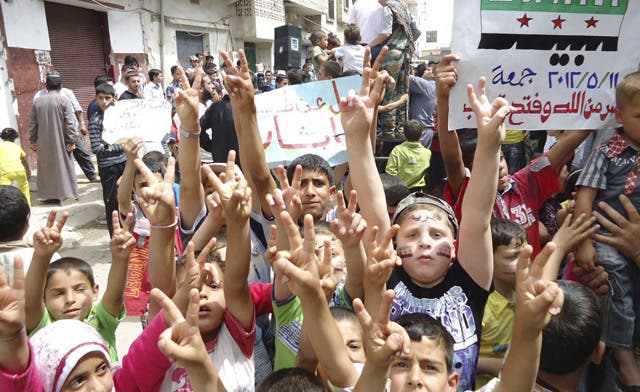 EU agrees new Syria sanctions; clashes kill 23 troops amid fresh scuffles in Lebanon
European Union foreign ministers agreed fresh sanctions against Syria on Monday, the 15th round so far against the regime of President Bashar al-Assad, as 23 Syrian troops were killed in heavy clashes in the Syrian town of Rastan.

An EU statement issued shortly after ministers from the 27-nation bloc began talks in Brussels said they had adopted "sanctions against the Syrian regime" but gave no further details, AFP reported.

Meanwhile, twenty-three Syrian soldiers were killed in the town of Rastan on Monday in heavy clashes with rebels who destroyed three armored personnel carriers, the Syrian Observatory for Human Rights said.
Earlier, opposition sources said a local rebel commander was among scores killed in heavy army shelling of Rastan, Reuters reported.

"Shells and rockets have been hitting the town since three a.m. (midnight GMT) at a rate of one a minute. Rastan has been destroyed," a Free Syrian Army (FSA) member in the town who declined to be named told Reuters by satellite phone.

The town, 25 km (15 miles) north of the city of Homs, is a major recruiting ground for Sunni conscripts who provide most of manpower in the military, which is dominated by officers from Assad's minority Alawite sect.

The area was scene of the first serious armed confrontations between army defectors and loyalist forces last year. Assad's forces regained control of the city several times but it has kept slipping back into rebel hands.

The town lies about 180 km (110 miles) north of Damascus, among farmland and wheat fields on the Orontes River and on the northern highway leading to Aleppo.

Its strategic location and the terrain has helped deserters from disparate units mount raids against army buses and roadblocks manned by Military Intelligence and pro-Assad militia, opposition activists said.
Tension in Lebanon
Five people were killed and nearly 20 wounded in clashes in the northern Lebanese city of Tripoli on Monday linked to unrest in neighboring Syria, a security official told AFP.

He said four men died in the neighborhood of Jabal Mohsen, populated mainly by supporters of Syrian President Bashar al-Assad.

A fifth person was killed near Bab al-Tebbaneh, a neighborhood of the port city located opposite Jabal Mohsen and populated mainly by opponents to Assad's regime.

Heavy automatic weapons and rocket-propelled grenade fire was heard in the two districts throughout Monday, an AFP correspondent said.

Battles first erupted on Saturday between residents of the rival neighborhoods after security forces arrested Shadi al-Mawlawi, a Sunni Islamist, on alleged charges of belonging to a terrorist organization.

Mawlawi's supporters say he was targeted because of his help for Syrian refugees fleeing to Lebanon.

Some 500 of them blocked a main road leading into Tripoli on Monday and said they would leave only after Mawlawi was released.


Tripoli MP Mouin Mereebi said the situation was getting out of control in the city and accused the army of failing to intervene to please the regime in Damascus.

"The army does not want to intervene without political cover," he told AFP. "Tripoli MPs have urged them to enter the areas (of clashes), telling them we would walk in front of them, but they refused."

Some security branches in Lebanon were clearly acting in collusion with Assad's regime in a bid to prevent Tripoli from becoming a safe haven for Syrian refugees, he charged.

A total of eight people, including a soldier hit by sniper fire, have died in the port city and dozens have been wounded since the fighting began on Saturday.

The army said in a statement that two soldiers were wounded on Sunday night when their patrol came under attack by armed men as they were trying to reopen a freeway between the two neighborhoods.

The fighting in Tripoli, 70 km (43 miles) from Beirut, highlights how tensions in Syria can ignite a sectarian conflict in Lebanon. Buildings in the area are still riddled with bullet holes from similar clashes earlier in the year.

Prime Minister Najib Mikati, who is originally from Tripoli, met religious leaders in the city on Sunday in an attempt to defuse the situation, and local leaders were due to meet later on Monday for more talks to calm the tension.