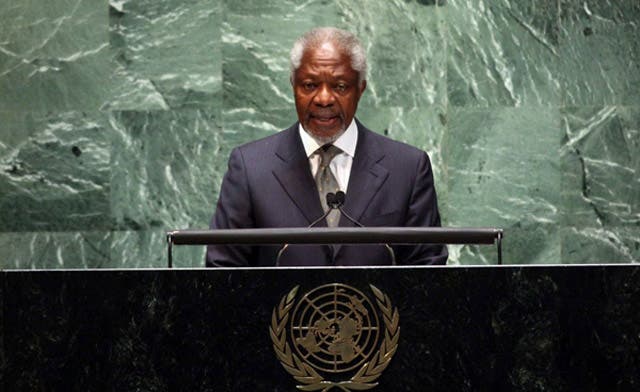 Annan quits as Syria peace envoy; says Assad will have to leave sooner or later
Former U.N. Secretary-General Kofi Annan is stepping down as the U.N.-Arab League mediator in the 17-month-old Syria conflict at the end of the month, U.N. chief Ban Ki-moon said in a statement on Thursday.

"Mr. Annan has informed me, and the Secretary-General of the League of Arab States, Mr. Nabil al-Araby, of his intention not to renew his mandate when it expires on 31 August 2012," Ban said in a statement, adding that he and Araby were in discussions on appointing a successor to Annan.
"Kofi Annan deserves our profound admiration for the selfless way in which he has put his formidable skills and prestige to this most difficult and potentially thankless of assignments," Ban said.

The U.N. and Arab League named Annan, a Nobel Peace prize winning former U.N. secretary general, as its envoy on the Syria conflict on Feb. 23. Assad agreed a six-point peace plan with Annan but has never carried it out.

"I wish to express my deepest gratitude to Mr Annan for the determined and courageous efforts he has made as the Joint Special Envoy for Syria," Ban said in a statement.

A clearly frustrated Annan blamed "finger pointing and name calling" at the U.N. Security Council for his decision to quit.

Annan complained of a lack of support and the increasing militarization of the conflict.

"I did not receive all the support that the cause deserved," Annan, speaking in French, told a hastily scheduled press conference in Geneva.

"The world is full of crazy people like me. So don't be surprised if Secretary General Ban Ki-moon can find someone who can do a better job than me," Annan said when asked if he thought someone else would be named to succeed him.

"There may be other plans, other approaches that may work quite effectively," he said, adding that at this stage the focus should still be on a political transition which means "President (Bashar) al-Assad will have to leave sooner or later."

Russia regrets Annan's decision to quit as U.N.-Arab League envoy on the Syria conflict, Moscow's U.N. envoy said Thursday.

"We understand that that's his decision; we regret that he chose to do so," Ambassador Vitaly Churkin told reporters after the U.N. statement announcing Annan's resignation. Churkin insisted that Russia had always supported the envoy "very strongly."

Churkin added he was encouraged that U.N. Secretary-General Ban Ki-moon is looking for a successor to Annan.

In Damascus, the foreign ministry said that Syria regrets resignation of Annan.

The ministry expressed its "regrets" at Annan's announcement and accused "countries which seek to destabilize Syria" of having "hindered and continuing to hinder" the former U.N. chief's peace mission.

The U.S. blamed the refusal of Russia and China to back resolutions targeting President Bashar al-Assad for the resignation of U.N. envoy Kofi Annan

The White House said Annan's decision to quit as envoy on Syria conflict highlights Assad's failure to meet promise to abide by ceasefire plan as well as the failure of Russia and China to back further Security Council action against Syria.

The White House said it continues to believe that "Assad must go."

In Paris, French Foreign Minister Laurent Fabius said that Annan's resignation "illustrates the dramatic stalemate of the Syrian conflict."

Russian President Vladimir Putin said he regretted Annan was leaving his role as international peace envoy for Syria and called a situation there "a tragedy," Russian news agencies reported.

"Kofi Annan is a very respectable person, a brilliant diplomat and a very decent man, so it's really a shame," Putin said in London, according to Interfax. "But I hope that the international community's efforts aimed at ending the violence will continue."

European Union foreign affairs chief Catherine Ashton called for a rapid appointment by the U.N. and the Arab League of a successor to Annan.

Expressing her "deep regret" in a statement, the English baroness said the EU "calls for the early appointment of a successor to carry on Mr Annan's work towards a peaceful political transition in Syria."