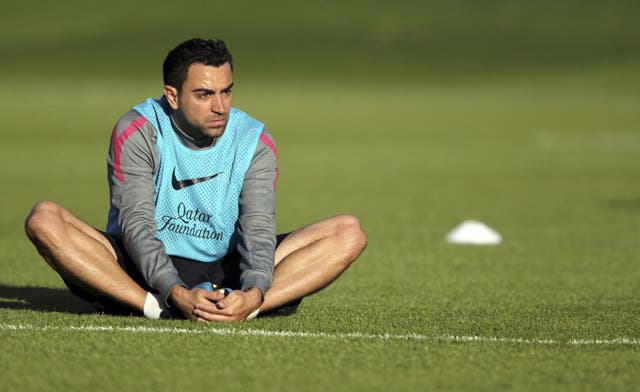 Xavi Hernandez on Islam, soccer and Barcelona
The great Spanish star and maestro of the Spanish national team and Barcelona, Xavi Hernandez, emphasized that he respects the Islamic religion.

In an interview with the Algeria-based newspaper el-Heddaf, Xavi said: "This is what we have learned at Barcelona's school since we were young, respecting the others; therefore in the Barcelona team, we are committed to respect our Muslim teammates, their religion and culture. 'Seydou' prays everywhere and this does not bother anyone. He often asks for a room where he can be alone in order to pray serenely, and in the dressing room we all respect him, as well as Abidal and Afellay; they are Muslims and the three of them are great." Xavi was referring to Eric Abidal, Seydou Keita and Ibrahim Affelay, fellow Barcelona stars.
"What really piqued my curiosity is the holy month of Ramadan. I found it difficult for a football player not to drink or eat for 12 hours, and sometimes even for 15 hours, under the intense hot summer weather, but it is a religious duty for Muslims and we should respect it. We also have religious rituals that we abide by."

Xavi thinks that life gathers everybody, saying that "football and Barcelona bring us together also; the football gathers peoples, cultures and religions, and our team combines all of these issues. In the end, the respect is established between all of us, no matter how different our religions and cultures are."

Speaking of the World Cup playoff match between Egypt and Algeria, Xavi said, "Unfortunately, I do not know a lot about it; however, I recall something that I did not want to talk about, I would rather talk about beautiful things."

The superstar, referring to accolades and awards, added, "those who wish me to win the Golden Ball should realize that in football nowadays we have a player who is above all whether we like it or not, and he is Lionel Messi; he is a great and unique football player, and if he keeps up the same level of playing and succeeds at least to win the world cup with the National Argentinian team, he will be the best footballer ever in the world. As for me, I am satisfied with what I have reached; the fact that I qualified and got to the last nomination stage for the Golden Ball is a great achievement and honor for me."

About his role in helping Messi becoming a star, Xavi said: "It is true that I always try to help him on the pitch, but in modern football nowadays, each and every one of us should make his teammates play better. It is true that Leo needs me on the field, but he also needs Iniesta, Busquets and the others. "On the other hand, I strongly need him in addition to Iniesta and the others. I think that what has hampered him so far in Argentina is their method; it is different from Barcelona's; nevertheless they have a strong and great team. In fact, Messi remains an amazing footballer and I am happy to be his teammate."

Speaking of Zinedine Zidane, Xavi said: "In my opinion, Zidane was the best player in the world during the period in which he played – from 1995 until 2006 – and he is one of the best players of all time. It is a real pleasure to see him play and perform.


(Translated from Arabic by Sarah Sfeir)