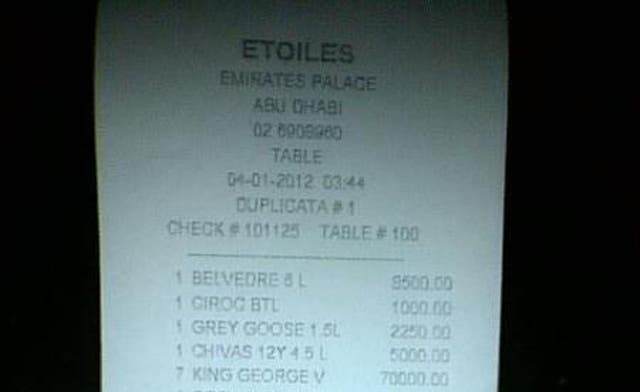 Another hefty night club bill from the UAE shocks people
As spectators try to recover from their shock after learning that some revelers have spent about $105,629 in a night out in Dubai, another bill at $132,793.57 sent people muttering.

The second bill dated January 4 emerged from Etoiles club located in the luxurious Emirates Palace in Abu Dhabi received mixed reactions in the social media.

"Half of the world needs a sip of water and they are wasting half a million on," one Facebook user commented on a picture detailing items purchased in the bill.
Another soulful comment cited the destitute suffered by many people in the world, saying "some families share a loaf of bread for three days and drink water from sewer lines."

But one comment gaining three Facebook likes showed disdain at poking of people's privacy, saying "I don't think such things need to be shared over the internet like this..." and another comment agreeing to the same sentiment explained that "each person has the right to spend his money however he sees suitable."

In addition to the luxurious drinks purchased by the revelers, the bill ends with an extra $11,447.5 service charge or tip.

Not long time ago, the UAE social sphere was ruckus when a receipt from the Cavalli Club in Fairmont Hotel in Dubai, dated January 2, emerged at its substantial $105,629.

Like the Etoiles club's bill, it also included drinks such as Cristal Champagne and other highly pricey alcoholic drinks.

According to Cavalli's operations manager, David Lescarret, spend of this nature is not unusual at the club.

"[The club] has seen high-spenders consistently frequent the venue since its inception," Lescarret told the Abu-Dhabi based The National newspaper.
"Despite individuals and businesses feeling the effects of the downturn throughout 2011, Cavalli Club has seen high-spenders consistently frequent the venue," Lescarret said.

"Last year saw an average of two tables per month spend between $55,555.6 to $128,888.9 in one night, and we expect this trend to continue into the New Year, with one customer already having spent just under $111,111.1."

According to the Dubai-based Arabian Business website, it is said that Cavalli stocks the most expensive champagne in the world - the Louis Roederer, Millennium Cristal Brut 1990, which is sold at $138,888.9 for a single bottle.

UAE is among the counties that have a high concentration of high net worth individuals.