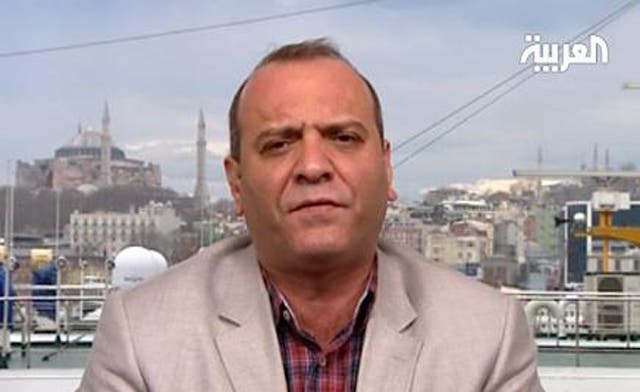 Syrian opposition figure says Assad's regime plotting a massive blast in Aleppo
The Syrian regime is plotting for a massive blast in the Syrian city of Aleppo, just to terrorize the people, a Syrian activist and opposition leader told Al Arabiya on Friday.

Syrian opposition leader Ammar Qurabi, head of the National Organization for Human Rights in Syria, told Al Arabiya that he had learned about the planned Aleppo plot from Syrian security officials. He described those explosions as "fabricated" by the Bashar al-Assad regime.

Earlier on Friday, a suicide bombing killed about 26 people and wounded 60 others in the central Maidan district in Damascus, bringing bloodshed to the heart of the Syrian capital for the second time in two weeks.
Qurabi held Assad accountable for the explosion of the Maidan district, as well as the previous blast the occurred before the arrival of the Arab mission to Syria.

The blast occurred two days before an Arab League committee was due to discuss an initial report of Arab observers who are checking Syria's compliance with an Arab plan to halt President Bashar al-Assad's crackdown on nearly 10 months of unrest.

The meeting may decide whether to continue the mission or to refer Syria to the United Nations Security Council, perhaps paving the way for some form of international action, a scenario that many Arab countries are keen to avoid.

On Dec. 23 at least 44 people were killed by what Syrian authorities said were two suicide bombings that targeted security buildings in the Syrian capital.

Those attacks occurred the day before the arrival in Damascus of the head of the Arab League observer mission.

Qurabi wondered why such explosions usually take place only on Fridays and why they always target civilian neighborhoods and not military camps.

Commenting on the news that the Arab League chief on Friday asked the Damascus-based leader of the Palestinian group Hamas to ask Syria to work to halt violence and end a crackdown on anti-government protesters, Qurabi said that Hamas leader Khaled Meshaal visited Sudan two weeks earlier and that he criticized the Sudanese government for approving the freeze of Syria's membership in the Arab League.

Qurabi described Meshaal as "part of the Iranian-Hezbollah convoy" that supports Assad's regime. Meshaal also criticized the Palestinian President Mahmoud Abbas for the official Palestinian stand towards the Syrian crisis, according to Qurabi.

Commenting on the Arab observers mission in Syria, Qurabi told Al Arabiy that he had talked to one of the Arab observers in Homs – Anwar Malik, the Algerian journalist – who told him that the mission "has failed."

"He talked about huge violations and told me that the main goal of the Arab mission was to be a cover for the bloodshed in Syria," Qurabi said.

Commenting on the role played by Iran in Syria, Qurabi said that it is well-known that Iran is a part of the current dispute in Syria. "It does not only support the Syrian regime, but it also provides it with weapons and technology."

The Syrian opposition leader also said that Iran was pressing Iraq's Prime Minister Nuri al-Maliki for providing financial aid and support to the Syrian regime.


(Translated from Arabic by Abeer Tayel)