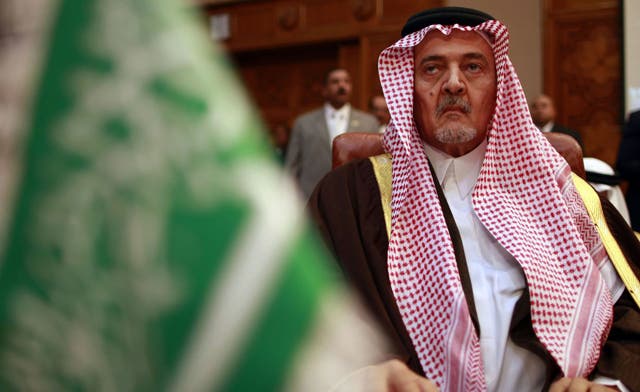 Saudi Arabia withdraws its monitors from Syria; Arab League calls for power transfer
Saudi Arabia's Foreign Minister Prince Saud al-Faisal said on Sunday Riyadh was pulling its monitors from the Arab League's heavily criticized observer's mission in Syria, which has been extended for another month, because Damascus had not kept its promises.

"My country will withdraw its monitors because the Syrian government did not execute any of the elements of the Arab resolution plan," Prince Saud al-Faisal told Arab foreign ministers meeting in Cairo. The statement was obtained by Reuters after he spoke.
"We are calling on the international community to bear its responsibility, and that includes our brothers in Islamic states and our friends in Russia, China, Europe and the United States," Prince Saud said, calling for "all possible pressure" to push Syria to adhere to the Arab peace plan.

Prince Saud's stamen followed a decision to extend the Arab League's observer mission Syria for another month during a meeting by Arab foreign ministers in the Egyptian capital, where they decided to add more members to the mission and provide them with more resources.
An officials, who spoke on condition of anonymity because they weren't authorized to speak to the media, said the U.N. would train the observers.

The move had been widely expected after the troubled mission technically expired on Thursday. Many in Syria's opposition movement have complained that the observers have failed to curb the bloodshed in the country as the regime cracks down on a 10-month-old uprising against it.

The League also urged Syrian President Assad to transfer power to the vice president and called for the formation of a national unity government within two months.

Assad should "delegate powers to the vice president to liaise with a government of national unity," to be formed in two months, according to a statement read by Qatari premier Sheikh Hamad bin Jassim al-Thani at a press conference after the Cairo meeting.

A League panel held closed-doors talks to hear a report on the mission that blames both sides, the government and opposition, for the bloodshed, according to an Arab diplomatic source. It recommends an extension while cautioning that its observers would not be deployed indefinitely.

Fierce clashes erupted late Saturday in Douma, just northeast of Damascus, after security forces shot dead four civilians at a funeral in the town, said the Syrian Observatory for Human Rights.

"Groups of deserters took control of all districts in the town of Douma... after fierce fighting" with Syrian security forces, the Observatory's chief Rami Abdel Rahman told AFP.

"Dissident groups withdrew from the town and returned to their bases," the Britain-based group later said in a statement, without giving a casualty toll for the operation.

Clashes also broke out on Sunday outside Douma between security forces and defectors in what appeared to be a bid by government troops to recapture the town, according to the Observatory.

It said two civilians were shot dead Sunday in Damascus province, including a 30-year-old man killed at a checkpoint into Douma. It said two officers and a soldier were killed, along with a deserter in the Talfita area of the province.

At a meeting of foreign ministers in Cairo, the Arab League looks set to extend and expand its observer mission, despite strong criticism that it has failed to stem 10 months of deadly violence.

Arab League chief Nabil al-Arabi was at the Cairo talks and due to chair a broader meeting of foreign ministers from the 22-member bloc to decide the future of the mission launched a month ago.

Sunday's report was being delivered by the mission's chief, General Mohammed Ahmed Mustafa al-Dabi of Sudan, who wants his mandate to be strengthened, not scrapped, a League official said.

In a statement late Saturday, Dabi said the mission's mandate was "to verify that the Syrian government has implemented the terms of an Arab League plan to solve the crisis, not to stop the bloodshed and violence."

But the opposition Syrian National Council has been lobbying for UN intervention and said it would reveal "a counter-report" later on Sunday to try to discredit Dabi's account.

The SNC said it also plans to send a delegation to the United Nations to press the Security Council for intervention.

Neighboring Turkey, which has called for Syrian President Bashar al-Assad to step down, said on Sunday that it was ready to work with the United Nations if a humanitarian crisis developed in Syria.

"We hope that before the situation reaches that stage, the Syrian administration will halt the unjust war it has waged against its own people and find ways to make peace with its people," Foreign Minister Ahmet Davutoglu said.

"But if a humanitarian tragedy unfolds before our eyes, and if the U.N. steps in, we are ready to work with the United Nations," he added.

International pressure has been steadily growing on Assad's regime, with more than 5,400 people killed since anti-government protests broke out last March, according to U.N. figures.

The Arab League deployed observers in Syria on December 26, and there are presently about 165 monitors on the ground.

The Local Coordination Committees, which organizes anti-regime protests, said in a statement on Sunday that 976 people have since been killed in a bloody crackdown on dissent.

The SNC has appealed to the Arab League to turn the Syria crisis over to the United Nations. But a mission official, on condition of anonymity, has said the operation would be extended and the number of observers almost doubled to 300.

Qatar has proposed that Arab troops be deployed in Syria, but Damascus rules out the idea.

In violence on Saturday, a roadside bomb killed 17 detainees being transported in a prison truck in Idlib province in the northwest of the country, said the Observatory.

State news agency SANA said "an armed terrorist group" attacked the vehicle in al-Mastouma area, "killing 14 prisoners and wounding 26 others."

Nine government troops and a deserter were killed in clashes with dissident soldiers near a military roadblock in the central city of Maaret Numan, the Observatory reported.

Syrian authorities overnight returned the body of a slain Lebanese boy and freed his two uncles, who said they came under fire from Syrian forces in a fishing boat along the maritime border on Saturday.