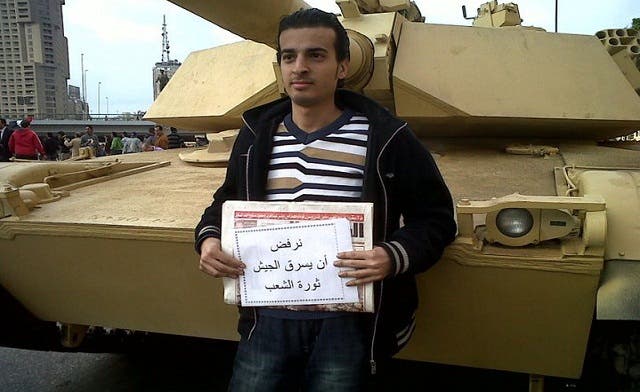 Maikel Nabil: The unfinished story of a jailed Egyptian blogger
As if by a stroke of serendipity, prominent Egyptian blogger Maikel Nabil is to be released this week, after spending 11 months imprisoned by the military junta.

But after earlier reports of plans to release Nabil on Sunday, a decision to postpone his exit has put a dampener on the celebratory mood for his supporters.

Activists on social networking site Twitter had announced that they were heading to Tora prison in Cairo to greet Nabil, but his brother announced on the site that the release would be delayed until Jan. 26.
Nabil, who spent nearly half of his time in prison on a hunger strike, was initially sentenced to three years imprisonment for writing a blog post which was sharply critical of the role of Egypt's army during unrest which followed the removal of President Hosni Mubarak last February.

His campaign against the military had led to swift orders to detain him and he became the first blogger to be imprisoned for publicly criticizing the military. Now Nabil, along with 1,955 prisoners also held by military prosecutors, will be released after a decree on Saturday by the military ruler Hussein Tantawi.

But any critic could ask an all-too simple question: Why now?

The anniversary of the January 25 revolution is set to mark its first birthday on Wednesday and further unrest throughout the country has suggested the Egyptian revolt for democracy has not come full circle.

In recent months, protests against the police and Mubarak's regime have been replaced by protests against the ruling army forces. Critics have argued that the Supreme Council of the Armed Forces (SCAF) has proved to be as repressive as the former regime after a spate of crackdowns by army and security forces left dozens dead and thousands injured.

Freeing Nabil and his fellow prisoners could be a part of the revolution's birthday celebrations.

Nabil was one of the 12,000 civilians believed to have been processed through military tribunals in the past 12 months, since the start of SCAF rule - more than were processed during the entirety of Mubarak's 30-year dictatorship, noted The Guardian.

Together with freeing military detainees, SCAF is also preparing for its nationwide January 25 celebrations. Parades, air shows and fireworks displays across Egypt have been organized by the military.

But it seems unclear whether Nabil, his supporters, and the many activists like him who are part of the "No Military Trials" activist group will acknowledge the army's bash.

Last month, in a blog entitled "The revolution of 25 January, 2012" Nabil wrote: "I hope that [in] the same way that the revolution of 25 January 2011 was a strong blow to police, 25 January 2012 will be a strong blow that the army never forgets."

During his imprisonment, a high-profile hunger strike which began in August saw Nabil close to death many times, consuming only juice and milk. Then, on Dec. 18 he started to refuse all feedings before ending his strike on Dec. 31 after 130 days.

In another post last month, Nabil wrote: "I can't describe my suffering in prison… Imagine someone made a surgery without anesthesia, no matter how much he described his suffering, no one will understand his pains… I'm also like that, no matter how much I described, no one will feel how much I suffer here!"

Nabil also said he was placed in solitary confinement for two weeks in December.

All the while, activists have been intensely campaigning for his freedom on social media and through organized protest.

In a similar case last month, prominent revolutionary Alaa Abd el-Fattah was released from prison after being falsely accused of inciting violence against the armed forces. Both Fattah and Nabil's cases have gone hand-in-hand at the forefront of military injustices protested and campaigned against.

But a collective of groups have come under fire for the unfair media coverage of Nabil's cause, when compared to Fattah. According to Egyptian journalist Joseph Mayton, fewer than 20 people turned out for Nabil's court sessions yet organizers of the online campaign for Fatah to be freed, under the "No Military Trials" umbrella, organized a massive march in late October throughout downtown Cairo to put pressure on the military to release him.

Meanwhile, the mainstream Egyptian media initially ignored Nabil's plight which was met by little coverage by Western and Arab news outlets in comparison to Fatah.

Now, as Nabil's exit from prison appears to be delayed, Nabil's brother has also noticed a state media inconsistency.

"See the hypocrisy? The Egyptian state television has said that Maikel Nabil is free and is on the way home" Mark Nabil posted on his Twitter account.

Reasons behind the delay remain vague; many suspect it is down to a technical inconsistency. A fax sanctioning the release was meant to be sent by Nabil's lawyer on Sunday morning, but was not, according to a prison officer who told a crowd of family, friends and supporters outside Tora prison.

However it remains unclear why Jan. 26 was chosen as his next official release date, and whether the prison is waiting on something other than the fax.

Nabil's journey has proven a mystery throughout his detainment, sentencing and treatment in prison. Now, the mystery remains, with questions hovering over his pending release; a story yet to be finished.