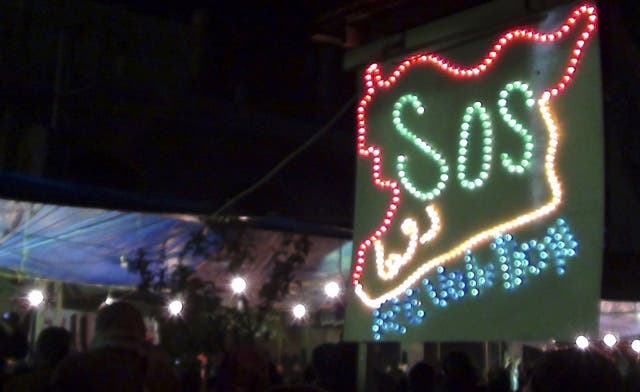 Arab League team to head to U.N. over Syria Saturday; Russia to promote its own resolution
Arab League chief Nabil al-Arabi and Qatari Prime Minister Sheikh Hamad bin Jassim Al Thani will head to New York on Saturday to seek support for an Arab plan on Syria, Arabi said, as Russia said it would continue to promote its own draft resolution on Syria at the U.N. Security Council.

The two will "hold a meeting with the U.N. Security Council on Monday to seek ratification of the Arab League decision on Syria," for President Bashar al-Assad to hand power to his deputy, Arabi said.

Meanwhile, Syrian security forces killed 63 civilians, mostly in Homs, in clashes across the country on Thursday, Al Arabiya reported citing Syrian activists.
A Syrian officer told Reuters clashes had been under way in Douma since the morning. Security forces were searching houses for arms and wanted suspects. Reporters were shown home-made grenades among other seized weapons.

The opposition Syrian Observatory for Human Rights said security forces had detained 200 people in Douma, a hotbed of protests and armed rebellion against Assad.

Assad's former vice president Abdul Halim Khaddam told France's Le Figaro that the Syrian president was storing arms at the neighborhoods inhabited by the Alawites. He accused Assad of attempting to divide the country. He told the French newspaper that weapons and machine guns have been distributed among the Alawite inhabitants and about a month ago heavy weaponry have been transferred and hidden in the mountains.

Arab League ministers meeting in Cairo last week had asked for U.N. support in their efforts to resolve the crisis in Syria, where a crackdown on protests has left more than 5,400 people dead since March, according to AFP.

The League called on Assad to delegate powers to his vice president and clear the way for a national unity government to be formed within two months.

"We are very mindful and appreciative of the attention that the Syria issue has gotten from the Arab League in recent weeks" U.S. State Department's top human rights official said, according to Reuters.

"We are desirous of working in partnership with them and there is certainly a hope and expectation that we can proceed to the Security Council soon for the issue to be raised," Michael Posner told reporters in Cairo.

Posner said that senior U.S. diplomat Jeff Feltman had been in Moscow in recent days to discuss possible next steps on Syria.

"They obviously have had a different view," Posner said. "I would very much hope, given the tragedy in Syria ... that the international community can come together to take the next steps that will allow a return to a more peaceful situation and that Assad, as we've said repeatedly, must go."
Promoting the Russian resolution
Russia, meanwhile, said on Thursday it would continue to promote its own draft resolution on Syria in the U.N. Security Council, staking out a tough position ahead of talks on a Western-Arab draft that calls for Assad to cede power.

Foreign Ministry spokesman Alexander Lukashevich ruled out neither a compromise on the rival Security Council resolution aimed to end almost a year of bloodshed in Syria nor a veto from Russia, which has refused to join calls for Assad's resignation.

His remarks indicated Russia is wary of the Western-backed draft, which supports an Arab League plan for a political transition in which Assad would cede power.

Western diplomats have said it could be put to a vote as early as next week.

"Russia introduced its own draft and worked on it taking into account amendments (suggested) by our Western colleagues. It remains on the negotiating table. Consultations on the draft continue and we hope this work will continue," Lukashevich said, according to Reuters.

"I have no definite information that the ... Western draft will be introduced in the coming days – we'll see," he told a weekly briefing.

"For now ... Russia has its own draft and will actively promote it within the framework of the Security Council."

Russia joined China in October in vetoing a European-drafted Security Council resolution condemning Assad's government for a crackdown the United Nations says has killed more than 5,000 people.

Russia has warned it would use its veto to block any draft resolution supporting any form of military intervention in Syria and has emphasized its opposition to sanctions.

The new Western-Arab draft resolution calls for neither military action nor sanctions, leaving Russia's response in question.

Moscow introduced its own draft resolution in December, but Western diplomats said they could not accept Russian wording assigning blame to government and opposition for the violence.

Russia circulated a new version earlier this month, but it was an amalgam of rival wording proposals that Western diplomats said left it unclear whether Russia would support tougher language. Some aired suspicions that the Russian draft was a ploy to play for time, and little progress was made in talks.

When Lukashevich said Russia had altered its draft to take into account amendments proposed by the West, he appeared to be referring to the changes Russia made before circulating the new version in mid-January, not to any new changes made more recently.