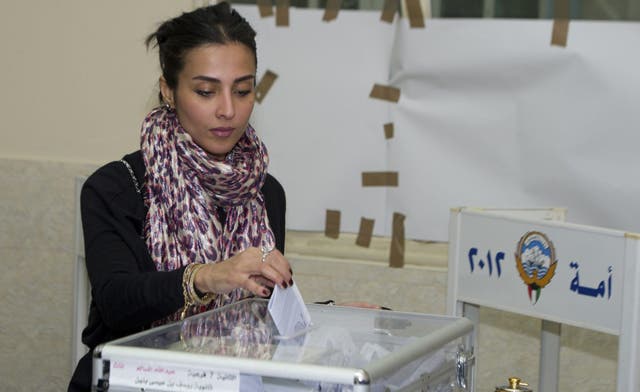 Kuwaitis head to polls as opposition press for change in snap election
Kuwaitis voted on Thursday in a snap election for the wealthy Gulf state's fourth parliament in less than six years, with pollsters predicting a solid victory for the Islamist-led opposition.

The vote, which follows an especially tense campaign marred by violence, seeks to end political disputes that have damaged the country for years.

Female voters make up 54 percent of the electorate, and 23 women are among 286 candidates standing for the 50-seat legislative body.

Early voter traffic at polling stations was low but picked up rapidly later, especially in tribal constituencies where men stood in long queues.
Unofficial estimates about two hours before the 1700 GMT close show that in some electoral districts, turnout was higher than 50 percent.

Pollsters and analysts expect the 400,000-strong electorate to deliver a resounding victory for the Islamist-led opposition which has campaigned vigorously for fundamental reforms and against corruption.

"We are very optimistic that the opposition will achieve a majority in the next parliament," former Islamist MP Waleed al-Tabtabai told AFP.

"I am hopeful that disputes will diminish because the opposition will strengthen its presence."

Some voters expressed concern that the election, which comes after one of the most aggressive campaigns since Kuwait introduced democracy in 1962, would not help bring back stability.

"The atmosphere is unhealthy and highly charged... because sectarian and tribal tensions are negatively impacting our country. Kuwait is a small country and does not bear struggles," former oil minister Adel al-Sabeeh said.

"The opposition is likely to boost its strength but I think we are headed for more disputes," Sabeeh told AFP.

Ordinary voters expressed similar worries.

"We are very frustrated and worried about what is happening in Kuwait," said one woman, Umm Saud, after voting in Jabriya, 15 kilometers (nine miles) south of Kuwait City.

"I am not optimistic this election will resolve our problems, but I pray that I am wrong," she told AFP.
Reforms
Kuwait's ruler, Sheikh Sabah al-Ahmad al-Sabah, called the snap vote in December after dissolving the chamber in a power struggle that has paralyzed politics in the U.S.-allied nation.

Voters and candidates say the stalemate is holding up vital reforms and development projects in a country of 3.6 million - one of the world's richest thanks to its vast oil wealth.

"The situation cannot remain as it was," opposition candidate Faisel al-Mislem told hundreds of supporters at a campaign event. "If this election is just a game of musical chairs then it's a waste of time."

Kuwait positions itself as a democratic state in the Gulf, a region dominated by autocrats who tolerate little dissent.

Its oil wealth and generous welfare programs have helped it avoid the kind of violent anti-government protests that have ousted leaders of other Arab countries.

The vote will usher in the fourth parliament in six years. Formal political parties are not allowed, which means opposition politicians are forced to rely on forming blocs in parliament.

Shahin Shamsabadi, senior associate at the Risk Advisory group, said deputies still had a chance of broadening the powers of the 50-member chamber if public opinion were on their side.

"The key thing is: are the people going to be fed up enough this time to change the parliament, or is it going to take another election?" Shamsabadi said.
Tribal tension
Tempers have flared in the runup to the vote. Tribesmen torched the tent of a candidate who appeared to insult their tribe and skirmished with police outside the office of a satellite channel that was hosting his ally.

Other candidates have been coaxing voters into their tents with lavish buffets and pledges ranging from lifting a ban on the sale of alcohol to bringing laws into line with Islam.

Meanwhile, pollsters and analysts expect a resounding victory for the Islamist-led opposition.

Tech savvy youth groups armed with smart phones and access to social networks have been organizing their own campaigns.

"We need to move on and I think people are seeing that and are moving towards that," said blogger Jassim al-Qamis, member of a team organizing liberal ex-MP Aseel al-Awadhi's campaign.

Opposition players accuse the government of misdeeds and corruption ranging from bribery, turning a blind eye to diesel smuggling and fomenting divisions within parliament.

Politicians say their battle will continue. "These elections have shown the government's true cards. It continues to play the same tawdry game," said opposition ex-MP Jamaan al-Hirbish.

Although parliament has the power to initiate legislation, cabinet members also vote, giving the government a bloc it can use to dilute opposition or swing a majority in the assembly.

And crucially, reforms depend on the will of the al-Sabah family which has ruled Kuwait since the 18th century.

"Meaningful constitutional reform is unlikely under the leadership of the current emir," said Jamie Ingram, an analyst at RUSI based in Qatar. "However after power transitions to a new generation, more deep-seated change is likely."

Many believe some kind of eventual change is inevitable.

"The government is very slow, like a tortoise, and society is like a hare and it's going to be very difficult for the tortoise to outsmart the hare," said Shafeeq Ghabra, a political scientist at Kuwait University. "A lot of these monarchies (in the region) have done great things for their people. But now the society wants to take charge."

Meanwhile, more than 20 people were wounded when Kuwaiti riot police clashed with tribesmen who stormed a local television station in the second day of violence ahead of general polls, witnesses said on Wednesday.

The incident took place late on Tuesday at the offices of private Al-Watan satellite channel which was hosting pro-government candidate Nabeel al-Fadl.

Police used tear gas to disperse the crowd that started hurling rocks, wounding around "20 security men and four reporters," a witness told AFP.

Some of the angry crowd managed to enter the offices and damaged some furniture and equipment, but all staff members escaped unhurt. They later attacked a nearby fire department center, the witness added.

Around 15 tribesmen were arrested during the clashes.

The incident came a day after angry tribesmen burned down the election tent of controversial pro-government candidate Mohammed al-Juwaihel over remarks deemed offensive to the Mutairi tribe, the second largest Bedouin clan in Kuwait.

Tribesmen consider Fadl, a strong critic of the opposition, as a close ally of Juwaihel, who disappeared after the burning of his tent late on Monday night.

Election rallies in Kuwait are held in large tents.

Opposition tribal candidates had held a massive rally to condemn Juwaihel's "derogatory" remarks and to ask the government to take legal action against him.

"We tell the (ruling) family that we are partners in governance and public funds and we are free people," leading opposition candidate Mussallam al-Barrak told a crowd of over 20,000 who listened to him under heavy rain.

"Tunisian martyr Mohamed Bouazizi did not burn himself because of hunger but out of frustration," said the outspoken former lawmaker, in reference to the Tunisian man whose death triggered the Arab Spring.

Several other speakers demanded that Juwaihel should be disqualified from contesting Thursday's election over his remarks of "hatred."