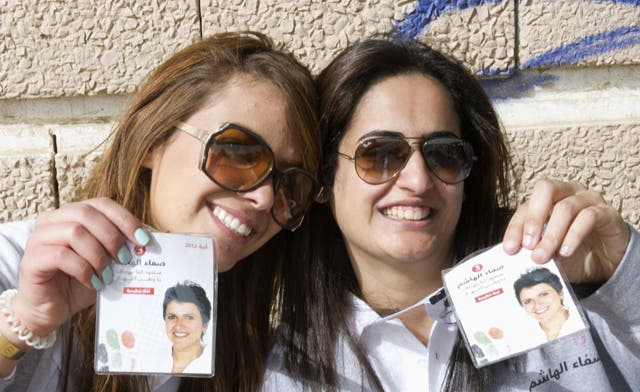 Why did Kuwaiti women fare so poorly in the elections?
The big buzz around Kuwait's electoral results centers on women candidates not being able to secure one seat in snap elections held on Thursday.

Kuwaiti women, who only won the right to vote in 2005 and saw four women in parliament in 2009, have expressed disappointment at the complete absence of women in the new government.

Kuwaiti women were first given the right to vote and run for office in 2005 but failed to win any seats in the 2006 and 2008 elections, held in this conservative Muslim country where politics is still widely seen as a man's domain.
In 2009, women won four seats in Kuwait's parliament, making it the first in the Gulf Arab state's history to see women in elected government. Sixteen women were among 210 candidates for the 50-seat assembly.

"Women wouldn't have won the four seats in the last election had they not had government support," Ayesh al-Rasheed, a candidate in the 2009 elections and a journalist, told Al Arabiya.

"Those women parliaments did not implement their electoral platforms and competed with men to reap personal gains," she added, citing the former women parliamentarian's "incompetency" and the sour legacy they left as the main reason for her not running in this election.

"They worked against women … they were like a remote control used by the government," she said.

Rasheed said the nature of the snap elections being born out of an aggravated political situation was another reason she did not run. "The current situation won't continue."

But not everyone agrees with the idea that a political deadlock and women parliamentarians' "incompetency" are responsible for the poor showing in Thursday's election.

"The struggle between political factions in Kuwait has made people forget about women," said writer and social activist Iqbal al-Ahmed, adding that no real electoral platforms were pledged in these polls.

Instead, she said that vague promises focused on negativities in Kuwaiti society as whole and women-related concerns were not on any agenda.

"Women have achieved much in parliament but their work was done through committees which the media does not report. The media mainly reports on national assembly proceedings," she said.

Asked to describe example of women parliamentarians' alleged incompetency, Rasheed said Kuwaiti Residential Care Act is still rife with inequality as both genders are still not treated the same. Initially the government agreed to give up to 70,000 dinars in housing allowances for women, but only 45,000 dinars were agreed on.

But Ahmed said that women who are not married to Kuwaitis, widows and divorces are now being given housing allowances.

Kuwaiti women can also sponsor their non-Kuwaiti husbands and their children have the right to free education and healthcare. However, Kuwaiti women married to non-Kuwaitis cannot pass on their citizenships to their children.

Unlike the 2009 election on which Islamist lost some ground giving some venues for liberals and women, the Kuwaiti Islamist-led opposition won a landslide majority in Thursday's snap polls by securing 34 seats in the 50-member parliament, officials results released on Friday showed.

Ahmed who cast her doubt on the future of women rights in the conservative country and feared backtracking on whatever gains have been made, nevertheless said that "elections results must be respected."

The activist who said that women voted mainly for the Islamists in these elections, believes Kuwaiti women are more of an effective electoral force as they outnumber men.

Rasheed, however, believes the results are a result of Islamists being far more organized in electioneering whereas some 'liberal' minded Kuwaitis were on leave for holidays.

Kuwait, the world's fourth largest oil exporter, has no political parties, but parliament has tended to be dominated by conservative Islamists and tribal figures who oppose the government's economic reforms and press ministers over accountability.

Kuwaiti voters punished pro-government MPs, reducing them to a small minority, especially 13 former MPs who were questioned by the public prosecutor over corruption charges.