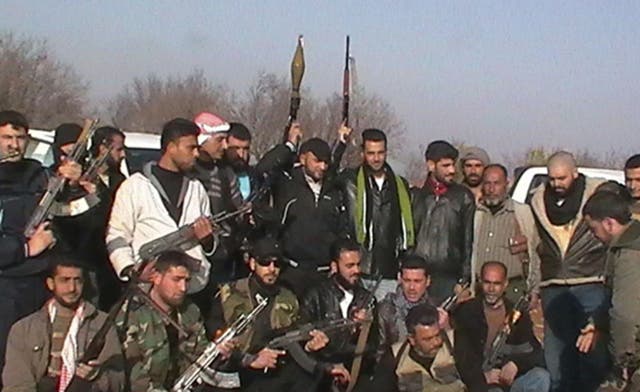 More deaths reported in Syria as Russia says it cannot support amended draft
Protesters flooded towns and cities across Syria defying a brutal government crackdown on Friday to commemorate the notorious 1982 massacre in the city of Hama that killed tens of thousands.

As many as 42 people have been killed by the gunfire of Syrian security forces across the country, Al Arabiya reported citing Syrian activists.

U.N. Security Council envoys awaited a decision by Moscow on Friday on the latest version of a European-Arab draft resolution endorsing an Arab League plan for Syria, and some diplomats said the Kremlin may go along with it.

A senior Western envoy said the council's 15 ambassadors had agreed the new text on Thursday, but that the final decision rested with national capitals. "The Russians said ... on ambassadorial level ... they stand by the text ... and the Chinese said the same thing," the envoy said, according to Reuters.
However, Russia said it cannot support a Western-Arab draft U.N. Security Council resolution on Syria despite changes that took some of its concerns into account, the Interfax news agency quoted Deputy Foreign Minister Gennady Gatilov as saying on Friday.

Gatilov did not specify whether Russia would veto the resolution, which supports an Arab League plan that calls for Syrian President Bashar al-Assad to cede power, or abstain if it comes to a vote in the Security Council in its current form.

"We have received the text. Some of our concerns and the concerns of those with like minds have been taken into account in it, but nonetheless, this is not enough for us to be able to support it in this form," he was quoted as saying, according to Reuters.

The latest text being considered by U.N. Security Council members does not explicitly call on Assad to step down or mention an arms embargo or sanctions, but "fully supports" an Arab League plan to facilitate a democratic transition.

Washington is "cautiously optimistic" Russia will support the draft resolution, a senior State Department official ahead of U.S. Secretary of State Hillary Clinton speaking by phone to Russian Foreign Minister Sergei Lavrov.

"This is the kind of resolution the entire council should support and the secretary and Ambassador Susan Rice are working the phones, working the halls to get a strong vote in the coming hours and days," said the official, according to AFP.

Diplomats said on Thursday that the new draft took into account concerns by Moscow, a staunch ally of Damascus.

Germany's foreign minister, meanwhile, said that U.N. wrangling over a resolution on Syria was harming the people, as he pushed for decisive action amid Russian hesitation and frantic diplomacy.

Speaking ahead of the opening of the Munich Security Conference, Guido Westerwelle called on his counterparts at the gathering to use the time to continue talks on finding language acceptable to all in a resolution.

"All those still hesitating must recognize that their hesitation is no longer tolerable for the people who are suffering from this violence and repression," said Westerwelle in a clear swipe at Moscow.

"The international community must negotiate. It must find common language," he said, as diplomats at the United Nations consider a draft Security Council resolution that was amended to overcome Russian-led opposition, according to AFP.

The latest draft does not explicitly call on Syrian President Bashar al-Assad to step down or mention an arms embargo or sanctions, although it "fully supports" an Arab League plan to facilitate a democratic transition.

Westerwelle said the international community must recognize "that this regime cannot continue with this repression and that President Assad must allow a peaceful transition of power."

The violence in Syria has killed at least 6,000 people since it erupted in March, according to rights groups.

The Syrian Observatory for Human Rights said that eight soldiers were killed in clashes in the southern Deraa province with fighters of the Free Syrian Army (FSA), made up of defectors and sympathizers.

Another soldier was also killed earlier in the village of Jasem, also in Deraa province.

Protesters emerged from Friday prayers in the port of Latakia where security forces opened fire to disperse them, the Britain-based group said, reporting a similar demonstration in Yabrod in Damascus province.

Under the slogan "Hama, forgive us," regime opponents had urged protesters to wear black and march in honor of the estimated 10,000 to 40,000 people who died in the massacre ordered by Hafez, father of President Bashar al-Assad.

Demonstrators turned out in their thousands in Hama itself, Idlib in the north, Deraa in the south and in Damascus province.

"Hafez is dead, Hama is not! Bashar will die and Syria will not!" read placards brandished by protesters in the al-Kidam district of Damascus, according to an Internet video posted by militants.

"Collective punishment won't work this time!" read another.

Rallies were also staged on Thursday in memory of the Hama victims as Western and Arab countries sought to reach agreement on a draft U.N. resolution to pressure Syria to end its almost 11-month crackdown on dissent.