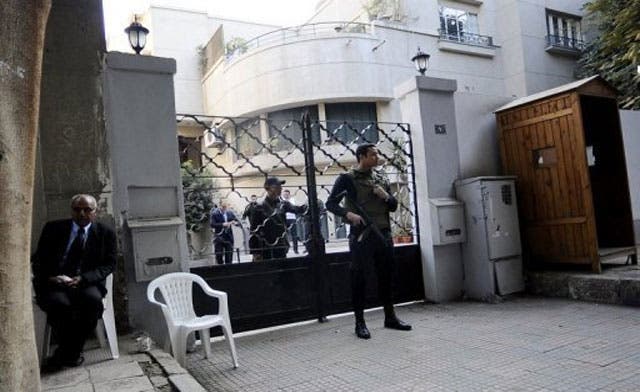 U.S. 'deeply concerned' about Egypt's decision to prosecute NGOs
The U.S. State Department said on Sunday it was "deeply concerned" by reports that Egyptian judicial officials plan to forward cases involving U.S.-funded NGOs to Cairo's criminal courts, while Freedom House condemned the Egyptian military for waging a "war on civil society."

"We have seen media reports that judicial officials intend to forward a number of cases involving U.S.-funded NGOs to the Cairo criminal court," U.S. State Department spokeswoman Victoria Nuland told reporters in Shannon, Ireland.
"We are deeply concerned by these reports and are seeking clarification from Egypt," she said. Nuland is travelling with U.S. Secretary of State Hillary Clinton.

The cases of 40 people - including U.S. citizens, other foreigners and Egyptians embroiled in a dispute over the activities and funding of pro-democracy groups - have been referred to court, Egyptian judicial sources said on Sunday.

Arrests would further strain U.S.-Egypt ties after the offices of several NGOs, including U.S. organizations International Republican Institute, the National Democratic Institute and Freedom House, were raided in December.

"I think the Egyptian military's handling of this issue has been a disaster," said Charles Dunne, director for Middle East and North Africa programs for Freedom House.

"This represents another escalation by the Egyptian government in its war on civil society -- and it's not just the U.S. organizations, it's the Egyptian organizations," he told AFP.

"I find it astounding that they would do this while you still have a delegation of Egyptian general officers here in the United States to talk to the Congress and the administration about continued U.S. military funding."
Dunne noted that annual U.S. military aid to Egypt totals some 1.3 billion dollars a year.

Meanwhile, his and other NGOs were actively seeking news of what has happened to their staff members, and whether they were among those detained.

"We're reading the same media reports," said Lisa Gates, spokeswoman for the International Republican Institute. "We're still trying to find out something definitive," she told AFP.

"The continued assault on American, German and Egyptian civil society is not a 'legitimate judicial process.' It is a politically motivated effort to squash Egypt's growing civil society, orchestrated through the courts, in part by Mubarak-era hold overs," IRI said in a statement.

The offices of Freedom House and the International Republican Institute, were among 17 local and international NGOs raided in December by Egyptian authorities as part of a probe into alleged illegal funding.

Egypt then barred in January some U.S. members of the NGOs from leaving the country and American officials said "a handful" subsequently took refuge inside the U.S. embassy fearing arrest.

Among those barred from leaving the country is the Egypt director of IRI, Sam LaHood, the son of U.S. Secretary for Transportation Ray LaHood.

On Saturday, U.S. Secretary of State Hillary Clinton warned that Washington's aid to Egypt would be reviewed, highlighting the continued deadlock over Cairo's crackdown.

Senior Egyptian military officers visited the United States last week in a bid to defuse the row.

U.S. Defense Secretary Leon Panetta telephoned Egypt's military ruler, Field Marshal Hussein Tantawi, and asked him to lift the travel ban on the American citizens.

An Egyptian judicial source said earlier that 44 people, including 19 Americans, had been referred to the Cairo criminal court, accused of "setting up branches of international organizations in Egypt without a license from the Egyptian government" and of "receiving illegal foreign funding."

Analysts have said the crackdown is part of a wider campaign by Egypt's military rulers to silence dissent after months of criticism of its human rights record.