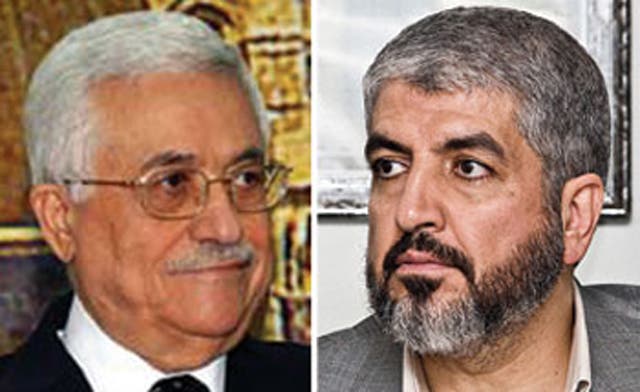 After Doha deal, challenges remain to Hamas- Fatah unity
The deal signed in Doha by rival Palestinian movements Fatah and Hamas has moved the two sides closer to reconciliation but challenges remain, officials and experts warn.

Palestinian president Mahmoud Abbas, who also heads Fatah, and Hamas chief Khaled Meshaal signed an accord on Monday placing Abbas at the head of an interim consensus government to supervise the run-up to elections later this year.

The deal was hailed as a compromise after a bitter dispute over who would head the temporary government that had stalled a reconciliation deal signed by all Palestinian factions in April and May 2011.

But analyst George Giacaman, director of the Ramallah-based Muwattin think-tank, said several other aspects of the April deal remain unimplemented.


"There is a deal to form a government now, but the majority of the clauses of the reconciliation deal that was concluded in May have not yet been applied," he said.

He pointed in particular to the deal's call for the merging of the rival security forces of Hamas and Fatah and the reform of the Palestine Liberation Organization, an umbrella group to which Hamas does not belong.

"The merging of the security services has not been done and is not possible because of the occupation, and the PLO file is important," he said.

"What happened in Doha is an expression of good intentions and is a good step, but the reconciliation file is thick and will not be resolved quickly."

The full line-up of the interim government is scheduled to be announced at a meeting of the PLO leadership, plus Hamas and Islamic Jihad, in Cairo on February 18.

A date for presidential and legislative elections, along with a vote for the PLO's legislative body, has not been set, though the original deal calls for them to be held this year.

Both Abbas and Hamas to gain
Azmi Shuaibi, a former lawmaker and representative for AMAN, the Palestinian affiliate of Transparency International, said both Abbas and Hamas stood to gain from the Doha deal.

Abbas will retain control over the reconciliation process, he said.

For Hamas, Abbas's agreement to serve at the head of a government supervising elections guarantees he will not renege on previous pledges not to stand for the presidency again.

"Hamas is sure that in accepting the prime minister's post which will supervise the elections, Abbas won't stand for president again, and that places Fatah in the difficult position of having to find a successor," he said.

While much of Hamas appears content to let Abbas head the interim government, although the Islamist movement had candidates of its own, more hardline members of the group's Gaza branch have voiced displeasure.

Mustafa Sawaf, a Gaza-based analyst and former editor of the Hamas-aligned Palestine newspaper, said the Doha deal was just "a favour to the emir of Qatar that will stay on paper, without a concrete application."

For Hamas in Gaza, "it is unacceptable that Meshaal individually takes a decision at this level without the necessary consensus," he said, warning that the group had exposed its internal divisions.

"Hamas needs to refute what is being said about its divisions by completely clarifying its position and accepting or refusing what Meshaal has accepted," the analyst said.

The Doha deal could also face other hurdles, with Hamas representatives and others saying that Palestinian law prevents Abbas from serving as president and prime minister at the same time.

"The Doha accord violates the Basic Law and bypasses the legislative council," Hamas lawmaker Ismail al-Ashqar warned in a statement shortly after the deal was announced.

Hassan Khreisheh, an independent MP, said only the Palestinian legislature could approve the legal changes necessary to implement the Doha agreement.

"This procedure is contrary to the Basic Law, which was amended in 2003 when the post of prime minister was created," he told AFP.

"It must be amended again and modify the powers of the prime minister and the president, since they will be exercised by one person. The legislative council is the only way that the reconciliation can be achieved and the Basic Law amended."