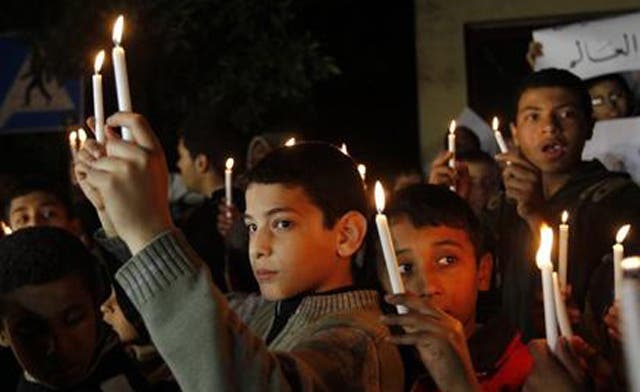 Power outages, fear of Israeli attack in Gaza affects children's psychological state
Fuel shortage in Gaza's only power station which triggered blackouts that lasted for as long as 18 hours, coupled with fears of another Israeli attack, have had detrimental impact on children, especially school students.

There are more than one million students in the Palestinian territories, around 710,000 in the West Bank and more than 471,000 in the Gaza Strip. Many schools in Gaza were destroyed in the last aggression Israel, which claimed the lives of dozens of children and students.

Gaza school students have called upon the world to take practical steps to prove their solidarity with the besieged strip which is suffering from constant power outages.
According to the students, blackouts have a negative impact on their studying and subject them and their families to a great deal of danger owing to the continuous use of candles and electric generators at home.

Students called upon their counterparts all over the world to stand beside them and save them from the darkness that aims to destroy their future by creating obstacles in their studies.

According to psychologist Mohannad Abdul Rahman, power outages and Israeli threats have a negative impact on children in particular.

"Children are the most affected by the environment in which they live," he said.

The tension the children in Gaza go through on a regular basis, Abdul Rahman adds, affects their behavior and this is specifically shown in their performance at school.

"They cannot concentrate as they should and cannot study like children living under normal circumstance."

In addition to blackouts and fear of an imminent war, he says, most of those children have already been subjected to traumatic experiences.

"In addition, all the children in the strip are constantly listening to the roar of warplanes flying over their houses."

However, he said, several students are more motivated by this fear and insist on not giving up and on getting the highest grades in school.

"Hard working students do not care about threats of war or electricity cuts and only concentrate on studying and doing their best to pass."

While Israeli warplanes hovered over Gaza's residential areas at night, Yousra, a ninth grade student, was studying by candle light, apprehensive about what would happen in the future and wondering if schools would be closed some time soon.

"I am not sure things will go as we want or that we will get an education like other students all over the world," Youssra, who got first place in the city of Khan Yunis in southern Gaza in the first semester, told Al Arabiya.

In the light of continuous Israeli threats to wage another war on Gaza, residents of the strip, especially children, find it very hard to go about their daily lives without thinking of the danger they are faced with.

"We should not allow those blood thirsty aggressors to do that to us. They will never hesitate to kill children and steal their dreams and to strip people of the right to live in dignity."

Like Abdul Rahman, Youssra believes that being part of such a volatile situation does not always bring about failure and that sometimes it yields the exact opposite result.

"Out of destruction, terror, and poverty come several success stories of extraordinary people who make history."


(Translated from Arabic by Sonia Farid)