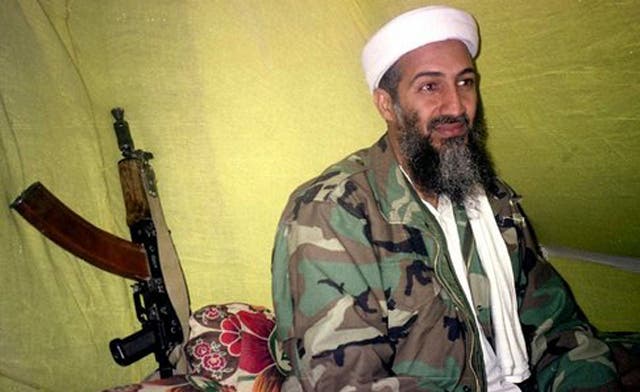 Pakistan rebuffs reports that Bin Laden had contact with spy agency
Reports that Osama bin Laden had been in contact with members of Pakistan's spy agency, according to secret emails published by Wikileaks, have been rebuffed by a Pakistani military spokesman.

An email, which was sent by an analyst at a global intelligence firm, Stratfor, suggested that up to 12 officials in Pakistan's Inter-Services Intelligence (ISI) had known of the al-Qaeda leader's hideout

But spokesman for the army, General Athar Abbas, said the allegations surrounding the ISI were baseless. "They are nonsense and not credible," he told Al Arabiya in a telephone conversation.
According to one of the e-mails, Stratfor had been shown the information papers collected from bin Laden's Abbotabad compound after the U.S. special forces attack it last May, which killed the al-Qaeda mastermind, according to the Telegraph.

"Mid to senior level ISI and Pak Mil [sic] with one retired Pak Mil General that had knowledge of the OBL arrangements and safehouse," the email said of the officers involved, according to the newspaper. "I get a very clear sense we (U.S. intelligence) know names and ranks," it added.

But a Pakistani security source told Al Arabiya that the leaked revelations were a new American trick, using the saying, "like new wine in an old bottle," and blamed U.S. intelligence forces.

"The information was leaked on purpose by the CIA to pressure Pakistan over its diplomatic ties with Iran and Afghanistan," the security official added on the condition of anonymity.

WikiLeaks claimed to have five million Stratfor emails that it would published in collaboration with media outlets. However only 200 were released this week, the Telegraph reported.

Although the internal email did not name the Pakistani officials involved, it said the U.S. could use the information as a bargaining chip in post raid negotiations with Islamabad.

Pakistan has repeatedly dismissed the charge that its intelligence services knew of bin Laden's hideout. But American officials had believed it had been impossible for the ISI not to have known that bin Laden was sheltering in a town so close Islamabad.

Meanwhile, WikiLeaks founder Julian Assange accused Stratfor of involvement in wide range of legally or morally questionable research activities for private corporations.

"On the surface it presents as if it's a media organization providing a private subscription intelligence newsletter," the activist, who is awaiting extradition to Sweden on rape charges said in London, the Telegraph reported.

"But underneath it is running paid informants networks," he added.

But the CEO of Stratfor, George Friedman, questioned the authenticity of the "stolen" email.

"Today Wikileaks is publishing the emails that were stolen in December. This is a deplorable, unfortunate − and illegal − breach of privacy," Friedman said in an emailed message.

"Some of the emails may be forged or altered to include inaccuracies. Some may be authentic. We will not validate either, nor will we explain the thinking that went into them. Having had our property stolen, we will not be victimized twice by submitting to questions about them," he added.

Stratfor, a firm providing analysis of world affairs to major corporations, military officials and government agencies and was once likened by an American business magazine to a "shadow CIA."

Other emails disclosed by Wikileaks allegedly revealed that Israel had last year carried out a successful covert attack on Iran's secret nuclear facilities.

Other revelations included the suggestion that Venezuelan president Hugo Chavez may have less than a year to live after his cancer spread to the colon and bone marrow.

(Written by Eman El-Shenawi)