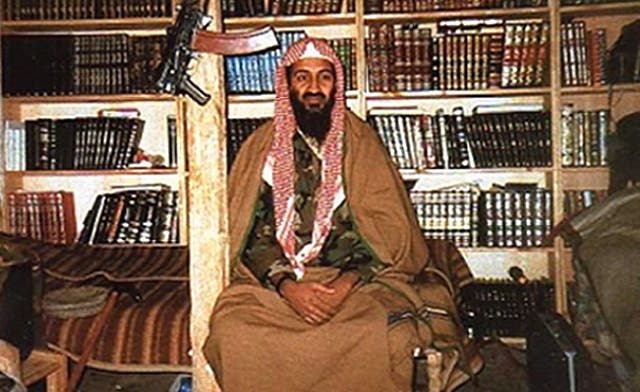 Bibles found in Bin Laden compound prompt speculations of 'jihad teachings'
Two Bibles were found at the compound where Osama bin Laden was killed, the Daily Mail reported on Wednesday, prompting speculation that the al-Qaeda leader had used the religious books for "teachings of jihad."

Security officials discovered the Christian holy books when demolition crews were sent in to tear down the compound in Abbottabad this week, according to the newspaper.

The officials said that certain lines in the English language Bibles were highlighted and they contained pages that were folded over. Two radio sets were also found during a final sweep of the compound before demolition.
A commanding officer from Pakistan's Inter-Services Intelligence told The Sun: "Maybe he was looking for teachings of jihad."

"The Bibles were in English and we cannot be sure why they were there. These copies were found as we checked the rooms for the final time before demolishing the building.

"The radios are in working condition and will be given with the Bibles to the investigators. Some pages were folded and we will see later what was of most interest to bin Laden." the officer added.

Pakistan security forces completed the demolition of bin Laden's compound on Sunday, erasing a symbol of humiliation for Pakistan's military that has marked one of the most difficult periods in U.S.-Pakistan ties.

The triple-story house, built over an area of 38,000 square feet, was under the control of the security forces and police since the May 2011 raid.

"The process of demolishing the compound on Saturday evening has been completed on Sunday night," a senior security official said in Abbottabad earlier this week, requesting anonymity because he was not authorized to talk to the media.

Bin Laden was killed in the house in Abbottabad on May 2, 2011 by U.S. commandos in a daring night raid that left the Pakistani military angry it had not been consulted. While much of the world cheered the death, Pakistan fumed over what it called a violation of its sovereignty.

The United States has said it kept the raid secret because it feared elements within Pakistan − possibly connected with its spy agency or military − could tip off bin Laden.

On Tuesday, reports that bin Laden had been in contact with members of Pakistan's spy agency, according to secret emails published by Wikileaks, had been rebuffed by a Pakistani military spokesman.

An email, which was sent by an analyst at a global intelligence firm, Stratfor, suggested that up to 12 officials in Pakistan's Inter-Services Intelligence (ISI) had known of the al-Qaeda leader's hideout

But spokesman for the army, General Athar Abbas, said the allegations surrounding the ISI were baseless. "They are nonsense and not credible," he told Al Arabiya in a telephone conversation.

(Written by Eman El-Shenawi)