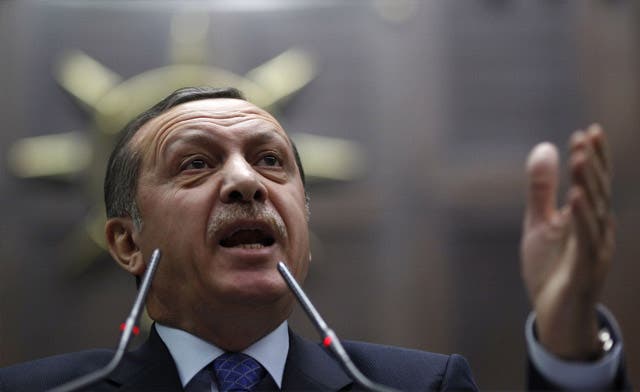 Leaked email says Turkish PM Erdogan has cancer and just two years to live
A leaked email from security analysis company Stratfor said Turkish Prime Minister Recep Tayyip Erdogan had terminal cancer and just two years to live, a claim denied by officials who said Turkey's most powerful politician was in good health.

Cancer rumors started after Erdogan had surgery on his lower intestine in November but did not gain media prominence until Tuesday when the Taraf newspaper reported the email leak on its front page.
The email, between two colleagues at U.S.-based Stratfor, which provides geopolitical analysis to paying subscribers, was released by the anti-secrecy group WikiLeaks as part of a massive leak of the company's correspondence.

The email said doctors had removed a 20-cm (8-inch) part of Erdogan's colon during the first operation on Nov. 26. He had a second procedure last month.

"The prognosis is not looking good, though. The surgeon said they were estimating 2 years for him," said a copy of the Dec. 10 email accessed on the Internet.

The report was based on intelligence from a source identified as Faruk Demir who obtained the information from an "old classmate friend" of the lead surgeon who operated on Erdogan.

Stratfor described Demir as a former National Security Council official, adviser to Erdogan and an energy expert. Demir, on his website, describes himself as an energy security analyst who has worked for the prime minister's office.

In a press statement on his website, Demir said the report was a lie and that all he knew about the issue was what he had read in the media.

Taraf quoted the chief surgeon who operated on Erdogan as saying the cancer report was "a complete lie." Another doctor who observed the surgery said Erdogan did not have cancer and there was no tumor, the paper said.

An Erdogan aide contacted by Reuters following the Taraf report dismissed the Stratfor email as "speculation and gossip."

"The prime minister's health is very good," the aide said.


Erdogan, 58, won a third consecutive term at an election last June and dominates Turkish politics. Even critics fear the void he would leave if forced to quit, as many see the ruling AK Party falling into factionalism.

There has been no discernible market reaction to the rumors - the lira, bonds and shares have all rallied this year.

After each operation Erdogan returned to work in less than two weeks. He has not gone on any overseas trips, though he is expected to visit Korea, Germany and Iran later this month.

Erdogan has kept up a busy schedule and appeared full of vim when he addressed AK Party parliamentarians on Tuesday, speaking for nearly an hour. Loyalists in the national assembly's public gallery applauded and chanted: "Turkey is proud of you."

Erdogan is widely regarded as the binding force for the AK Party, which he helped found in 2001 after the Islamist party that he had belonged to was banned.

His government steered the country out of economic crisis to usher in Turkey's most prosperous period, and introduced reforms that have quashed the power of the army.

While Erdogan lays claim to being a champion of democracy, empowering pious Turks from the country's Anatolian heartland, critics say he has autocratic tendencies and his democratic reforms are designed to prolong his rule.