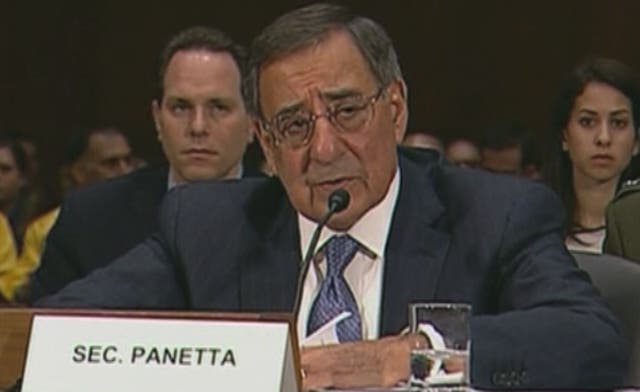 U.S. considers 'non-lethal' aid to Syrian opposition, says Panetta
United States defense secretary Leon Panetta said on Wednesday the U.S. will provide emergency humanitarian assistance to the Syrian people, with an initial commitment of $10 million, to help in their fight against President Bashar al-Assad's regime.

Panetta said the financial assistance would be a form of "non-lethal aid" to Syria's opposition forces, which would include the likes of radio equipment, he told the Senate Armed Services Committee.
Although the defense chief laid out several U.S. options on Syria, he stopped short of military intervention, adding it would only be an option "if necessary."

"We are reviewing all possible additional steps that can be taken with our international partners to support efforts to protect the Syrian people, end the violence, and ensure regional stability, including potential military options if necessary," Panetta told the committee.

"Although we will not rule out any future course of action, currently the administration is focusing on diplomatic and political approaches rather than a military intervention," he added.

Panetta also said the U.S. would work with the regional members of the Friends of Syria group and others to "help strengthen the [Syrian] opposition."

Asked by Senator Richard Blumenthal if the United States was ready to deliver communications equipment to Syrian rebels, Panetta said: "I'd prefer to discuss that in a closed session but I can tell you that we're considering an array of non-lethal assistance."

Some Republican lawmakers have called for U.S. air strikes to support the Syrian rebels and warned that time is running out to protect threatened civilians. Panetta, however, echoed Obama's view that the situation was different than Libya, where a NATO-led coalition carried out a bombing campaign last year that helped topple Muammar Qaddafi''s regime.

General Martin Dempsey, chairman of the Joint Chiefs of Staff, said at the same hearing that the U.S. military had prepared contingency plans for possible intervention but the president had not yet been briefed and a more detailed operational plan had not yet been drawn up.

Meanwhile, Senator John McCain, the ranking Republican on the committee, urged military intervention in his opening remarks.

"Assad needs to know that he will not win, and unfortunately that is not the case now," McCain said.