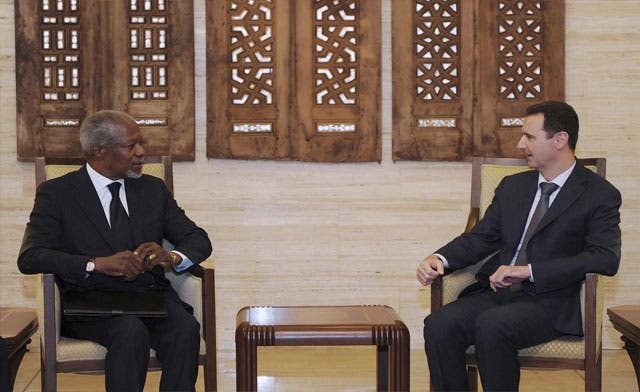 At least 83 killed in Syria despite Kofi Annan's visit
At least 83 people were killed nationwide in Syria on Saturday, the Syrian Network for Human Rights reported, and forces loyal to President Bashar al-Assad pounded opposition strongholds despite a visit by international envoy Kofi Annan.

The Syrian Observatory for Human Rights earlier reported that government troops killed 16 rebels in an ambush in the province of Idlib while the rebels killed four soldiers and captured five.
Saturday's killing adds to a death toll that had already topped 8,500 since protests against the regime of President Bashar al-Assad erupted last March.

Head of the opposition Syrian Free Army, Colonel Riad al-Asaad, said on Saturday his forces had shot down a Syrian army helicopter in Idlib.

"Our forces shot down a helicopter and destroyed six tanks and 30 army soldiers have defected to our ranks," al-Asaad said.
Assad, Annan meeting
Syrian President Assad promised Annan on Saturday that he would back any "honest" peace bid but warned dialogue would fail if "terrorist groups" remained.

Syrian state television said there was a "positive atmosphere" to the Damascus meeting between Assad and the former U.N. chief, on his first visit since being named United Nations-Arab League envoy on the conflict.

Annan made no immediate public comment about the progress of his mission to prevent a year-old uprising from spiraling into all-out civil war.

"Syria is ready to bring success to any honest bid to find a solution," the official SANA news agency quoted Assad as telling Annan.

But "no dialogue or political process can succeed as long as there are terrorist groups that are working to sow chaos and destabilize the country by attacking civilians and soldiers," he added.

"The success of any effort firstly requires an examination of what is happening on the ground instead of presumptions spread by certain states of the region and others to distort the reality... of the situation in Syria," said Assad.