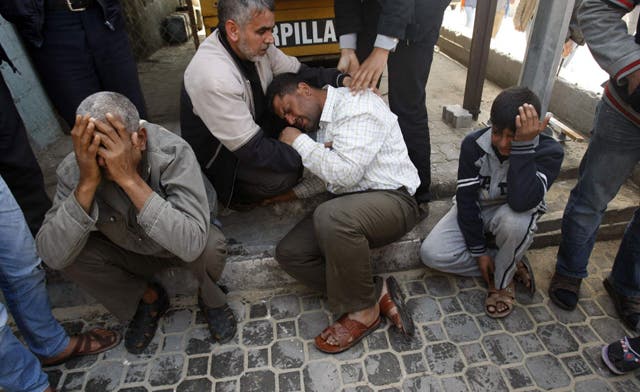 New Israeli air strike kills 12-year-old in Gaza, death toll reaches 17
A fresh Israeli air raid on Gaza early Sunday killed a 12-year-old, bringing the death toll from strikes since Friday to 17 and dashing Hamas hopes of restoring a tacit truce.

The killing of the leader of the ultra-hardline Popular Resistance Comittees, Zuhair al-Qaisi, and a slew of other militants in Israeli raids on Friday unleashed a spiral of tit-for-tat violence on the Israel-Gaza border that has made for the highest death toll in more than three years.

The European Union and the United States urged both sides to restore calm but Palestinian militants vowed to avenge their dead and Israel threatened to hit back if its citizens came under renewed rocket attacks from the coastal enclave.

Militants have fired some 100 rockets into the Jewish state since Friday.

The Israeli military had no immediate comment.

Medics said three Palestinians were killed in air strikes on Saturday -- one near the southern town of Rafah on the border with Egypt and two in Khan Yunis. One more was killed early Sunday in a fresh strike on the east of the Gaza Strip.

Medics said at least 28 Palestinians had been wounded, five seriously.

The Israeli army said more than 100 rockets and mortar rounds had been fired into Israel from Gaza over 24 hours. Four people, three of them Thai laborers, had been wounded inside Israel, media and Israeli medics said.

Residents told Israeli radio and television how they had been told to stay close to bomb shelters and that large public gatherings had been banned, forcing the cancellation of several football matches on Saturday.

Schools in southern Israel were also due to remain closed on Sunday.

The army said it had attacked several targets inside Gaza including "a terrorist squad" planning to fire rockets.

The air raids had been "in direct response to the rocket fire at Israeli communities in southern Israel," it said.

One strike killed the head of the Popular Resistance Committees, Zohair al-Qaisi, and fellow member Mahmud Hanani, the ultra-hardline militant group said. The PRC threatened reprisals for Qaisi's death.

The Al-Quds Brigades, the military wing of Islamic Jihad, said the air strikes had killed 10 of its members.

It was the deadliest outbreak of violence on the Gaza-Israel border since a devastating Israeli assault in December 2008-January 2009 aimed at halting Palestinian rocket attacks.

Thousands of mourners, many chanting calls for revenge and firing automatic weapons into the air, buried 12 Palestinians on Saturday.

Palestinian security officials said that at one funeral, east of Gaza City and close to the Israeli border fence, Israeli troops opened fire on mourners, wounding four people.

The army had no immediate comment.

Defense Minister Ehud Barak said "the Israeli army will hit anyone planning to attack Israeli citizens." He expected the violence to continue another day or two, he added.

The Israeli military said the PRC militants killed on Friday night were "planning a combined terror attack that was to take place via (Egypt's) Sinai (Peninsula) in the coming days."

Hamas, which rules Gaza, has maintained a tacit truce with Israel, but other Palestinian groups regularly fire rockets and mortars across the border, often sparking retaliatory air strikes.

The relatively small PRC is one of the most active.

"We are not committed to the truce; we will respond very strongly to this (Israeli) crime," Abu Ataya, a spokesman for the PRC's military wing, the Al-Nasser Salaheddin Brigades, told AFP.

Hamas also branded the killings a crime but later said was making contacts through Egypt to try to restore the tacit truce.

"We really want to put an end to the (Israeli) aggression in the Gaza Strip and the contacts that we have made with Egypt are to that end," Hamas spokesman Taher al-Nunu told AFP.

Hamas was prepared to help broker a ceasefire, "not a surrender", but it would have to be applied on both sides simultaneously, he added.

Palestinian president Mahmoud Abbas also discussed renewing the ceasefire in talks with Hamas's exiled leader Khaled Meshaal and the leader of Islamic Jihad Ramadan Abdullah Shallah, the Palestinians' official Wafa news agency reported.

The Palestinian Authority condemned Israel's retaliation, saying it would "escalate the circle of violence in the region."

The United States and European Union expressed similar concerns. "We call on both sides to make every effort to restore calm," said U.S. State Department spokesman Victoria Nuland echoing an EU statement.

The Arab League accused Israel of carrying out a "massacre" and called for a tough stance from the international community against the Jewish state.
Iran calls raids 'war crimes'
Iran on Sunday called Israel's deadly air strikes on Gaza "war crimes" against "the defenseless Palestinian people," calling for an international outcry against the attacks.

"Iran strongly condemns the savage crimes of the Zionist regime against the innocent and defenseless Palestinian people in Gaza," the foreign ministry said in a statement carried by the official IRNA news agency.

"The recent, repeated aggressions and invasions... are condemned as war crimes and inhumane," it said.

International organizations and rights groups should speak out "about this abhorrent violation of human rights," it added.

Iranian Foreign Minister Ali Akbar Salehi described Qaisi's killing as an act of "state terrorism."

Israel is Iran's arch-enemy in the Middle East.

The Jewish state, which has the region's sole if undeclared nuclear arsenal, has threatened to carry out air strikes on Iranian atomic facilities to prevent the Islamic republic gaining the technology and knowhow to make a nuclear bomb.