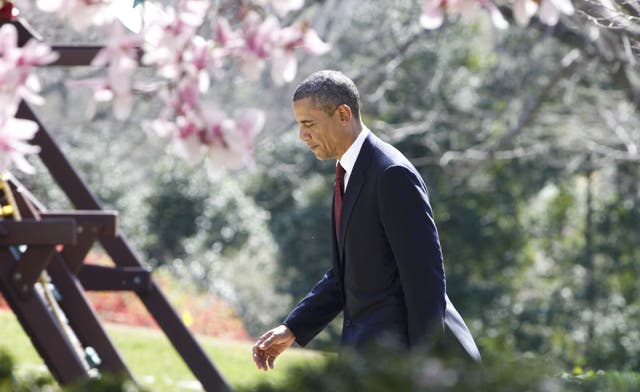 Obama says window for diplomatic solution with Iran 'shrinking'
United States President Barack Obama on Wednesday warned Iran that the window for diplomacy to solve a nuclear showdown was "shrinking," encouraging Tehran to seize the opportunity of talks with world leaders to avert "even worse consequences."

"In the past, there has been a tendency for Iran in these negotiations to delay, to stall, to do a lot of talking but not actually move the ball forward," Obama said at the White House.

"I think they should understand ... that the window for solving this issue diplomatically is shrinking."

"We will do everything we can to resolve this diplomatically but ultimately we've got to have somebody on the other side of the table who is taking this seriously and I hope that the Iranian regime understands that," he said.
Speaking at a press conference with British Prime Minister David Cameron, Obama sent the public message to Iran as preparations went ahead for a new round of dialogue between global powers and the Islamic Republic.

But the talks came amid rising fears of a military attack on Iran, possibly triggered by Israel.

Iran has maintained its nuclear program is peaceful, and will be used for civilian purposes but the United States and its allies have been concerned that Tehran wants to build a nuclear weapon.

Obama also said that a punishing new set of sanctions on Iran would "begin to bite even harder this summer" and would further hurt Tehran's economy.

The U.S. and the EU have imposed punishing sanctions against Iran's banking and energy sectors pressure it to abandon its uranium enrichment program.

Both Obama and Britain have signaled that they do not believe that the time is right for military action against Iran's nuclear program yet, amid fierce speculation about the possibility of an Israeli strike in the next few months.

Meanwhile, Iran on Wednesday welcomed a new round of nuclear negotiations with six world powers, saying the two sides should set "the date and venue" of the talks, Iranian media reported.

In a letter to Ashton, Iran made a formal request for a date and venue to be fixed for talks with the P5+1 group of world powers, comprising the United States, Russia, China, France, Britain and Germany.

It said it was interested in talks "without preconditions and with the goal of having long-term cooperation."

In the past, Iran has refused to discuss its nuclear program at the talks, leading to skepticism among western leaders that this round of talks will be any more significant.