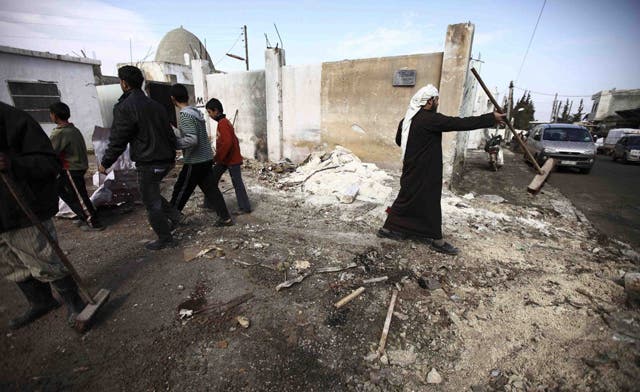 As revolt against Assad enters 2nd year, 'up to 500,000' Syrians may flee crackdown
Up to 500,000 Syrians may cross into Turkey seeking refuge from the deadly year-long crackdown on protests by the Damascus regime, the head of the Turkish Red Crescent warned Thursday.

Ahmet Lutfi Akar said his organization expected more refugees "to cross into Turkey through the border province of Hatay in the upcoming days, as there is an extreme situation. There are various scenarios that this figure may climb up to 500,000," the Anatolia news agency quoted him as saying.

As the Syrian revolt entered its second year on Thursday, around 1,000 refugees crossed into Turkey in one day, Turkish officials said.

Turkey said the refugees had crossed into Turkey from Syria in the last 24 hours, bringing the total of registered Syrian refugees in Turkey to some 14,000.

An official said: "We expect this to continue as long as the operation goes on in Idlib."

The United Nations estimates that more than 8,000 people, mostly civilians, have died in the fighting. Some 230,000 Syrians have been displaced from their homes, including 30,000 who have fled abroad, raising the prospect of a refugee crisis.

In Syria, the official media announced that government forces had cleared "armed terrorists" from the northwestern city of Idlib and said supporters of President Bashar al-Assad would hold rallies across Syria.

But opponents of Assad's regime show no sign of backing down and there were reports of continuing clashes in areas around Idlib, as well as close to the central city of Homs, which has been pummeled by the army in recent weeks.

Syrian state television said there would be a "Global March for Syria" to honor those killed by the rebels and video footage showed crowds gathering in a central Damascus square.

The government has blamed foreign powers and "terrorists" for the chaos and say 2,000 soldiers have died in the conflict.

Assad confidently predicted at the start of 2011 that Syria was immune from the "Arab Spring," in which the autocratic leaders of Tunisia, Egypt, Libya and Yemen were swept from power.

But on March 15, a few dozen protesters braved the streets of Damascus to call for more freedom. Days later riots broke out in Deraa, on the border with Jordan, to protest against the torture of local boys caught writing anti-government graffiti.

A contact in Deraa told Reuters most schools and shops in the main commercial area were closed on Thursday, with hundreds of security forces patrolling the streets. State employees were being ordered to stage a pro-Assad rally, residents said.
NGOs urge Russia
A coalition of 200 human rights watchdogs urged Russia to back U.N. action to end the bloodshed in Syria, in a joint statement issued on Thursday marking one year since the violence erupted.

"A coalition of 200 NGOs from 27 countries... is demanding that the U.N. Security Council immediately unite and pass a resolution calling on the Syrian government to stop indiscriminate shelling of civilian neighborhoods and other violations of international law, stop arbitrary arrests and torture and grant urgent access to humanitarian workers, journalists and human rights monitors," the statement said.

The call for the international community to "Unite for Syria: Stop one year of bloodshed" was backed by activists across the world, as well as celebrities including British actor Stephen Fry and Canadian singer Nelly Furtado.

"For a full year, the death toll in Syria has escalated to the horrifying total of more than 8,000 dead, including hundreds of children. Isn't it time for the world to unite behind effective steps to stop this now?" said Ziad Abdel Tawab of the Cairo Institute for Human Rights.

The Institute signed the statement along with the New York-based Human Rights Watch, Christian Aid, CIVICUS and the International Federation of Human Rights.

"Russia and China have twice blocked Security Council action, a defense of Assad that he has interpreted as a licence to kill," said Kenneth Roth, executive director of Human Rights Watch.

"Moscow and Beijing should stop providing diplomatic cover for Syrian atrocities, and start demanding an end to indiscriminate shelling and attacks on peaceful protesters," he said, quoted in the statement.

The NGOs called on the U.N. Security Council to demand the Syrian regime stop shelling protesters; urged the international community to back envoy Kofi Annan; demanded humanitarian access to areas in need of aid; and appealed for the "Friends of Syria" coalition to uphold its aid pledges.

"The Syrian people have survived with outstanding courage one year of systematic and widespread crimes and bloodshed as the world stood by and watched. The international community must unite and help Syrians bring an end to the horror," said Souher Belhassen, president of the International Federation for Human Rights.

Journalists criticize killings
Meanwhile, the Committee to Protect Journalists expressed outrage at the number of journalists killed and detained in the year since the Syrian uprising began - the highest death toll of any country swept by the Arab Spring.

The committee said in a report released late Wednesday that eight local and international journalists have died while working in the country since November, at least five in circumstances that indicate "potential government culpability."

It said these were the first journalists' deaths in Syria since the committee started keeping records in 1992.

The New York-based organization that promotes press freedom said it found substantial evidence that two local journalists, Ferzat Jarban and Basil al-Sayed, "were directly targeted by government forces."

It said circumstantial evidence and witness statements point to the possibility that government forces may have taken deliberate, hostile action against the press that led to the deaths of award-winning French TV reporter Gilles Jacquier, American war reporter Marie Colvin who worked for Britain's Sunday Times, and French photojournalist Remi Ochlik.