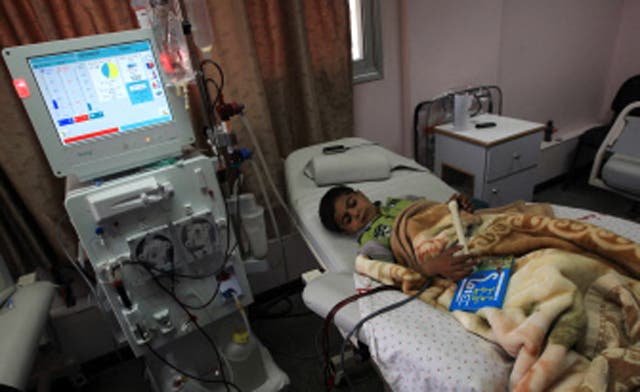 Palestinians suffer fuel crisis in Gaza; unity deal at heart of Egypt-Hamas dispute
Palestinians in the Gaza Strip are suffering a crisis of dry petrol pumps and frequent blackouts triggered by a fuel supply dispute between Egypt and the enclave's Hamas Islamist rulers.

Taxis are scarce, with would-be passengers fighting for rides, and the government has ordered civil servants with vehicles to pick up hitchhikers.

Gaza's emergency medical service has halved the number of ambulances it puts on the streets. At least one hospital has cancelled non-essential operations to conserve power for its generator.

"Our leaders are playing while we are being grilled on the fire of poverty and division. We have been sent back to the dark ages," said Abud Mohammed, a 21-year-old university student.
Last month, Egypt began restricting the flow of fuel to Gaza through the network of smuggling tunnels running under their border. Gaza's lone power plant ran out of fuel for its generators, causing outages affecting nearly two-thirds of the area's population of 1.7 million.

Egypt prefers to send fuel through the Israeli-controlled Kerem Shalom crossing, citing old international understandings which limited the use of Egypt's Rafah terminal with Gaza to the movement of passengers.

Hamas objects. It is opposed to giving its foe, Israel, the opportunity to block supplies in times of tension and wants direct trade with Egypt, a move that could strengthen Gaza's economy and Hamas's popularity.

But a rocky relationship between Egypt and the Islamists who wrested control of the Gaza Strip from Palestinian President Mahmoud Abbas's Fatah movement in 2007 has bolstered the crisis.

Some Hamas sources accused Egypt of creating fuel shortages to pressure the movement to implement a unity deal with Western-backed Abbas. Mohammed Awad, the deputy prime minister in the Gaza Strip, said the crisis was politically motivated and Hamas "will overcome it."

Hamas' Gaza-based leadership has balked at the accord signed by Khaled Meshaal, a leader of the group who lives in exile, because it fears the reconciliation agreement could weaken its control of the enclave.

"If Hamas calls itself a government they should find solutions. If there was unity, many of these problems would cease to exist," said Saed Salem, a 41-year-old civil servant.

"There is no fuel to generate electricity and no cooking gas to make food and no cars to go to work in or visit family and friends."

Urging "concerned parties" to resolve the supply problems as soon as possible, Maxwell Gaylard, the U.N. Humanitarian Coordinator for the occupied Palestinian territory, said hospitals and ambulance services were finding it increasingly difficult to function and already fragile water and sanitation systems were failing.

"These chronic shortages are reaching beyond the rationing of electricity and water for households which has been a feature over the past several years, to a situation where day-to-day life for Gazans is ever more difficult," Gaylard said in a statement on Thursday.

The shortages have spawned a black market, with the price of a liter of diesel approaching seven Israeli shekels ($1.87) compared with 2.50 shekels ($0.67) before the crisis.

Mohammed Khail, who owns a motorized rickshaw, said he has not worked for four days since his tiny vehicle ran out of fuel. "I blame the whole world for the problem," he said.