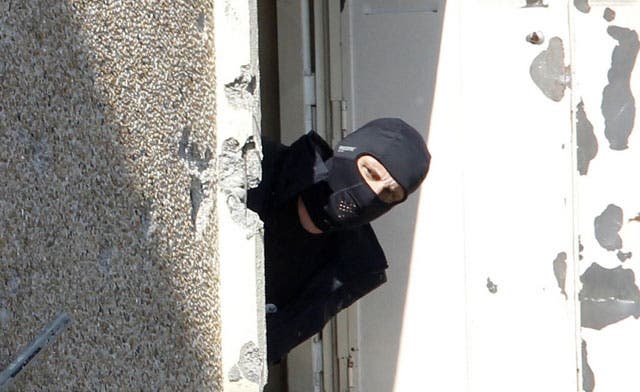 Father of slain Toulouse gunman to sue French elite police force: lawyer
The father of gunman Mohamed Merah plans to sue the elite French police force which shot his son dead in a shootout last week, his lawyer said.

The legal action will not be taken against the French state "but against RAID (the elite police unit) who are responsible for the death of his son," Algerian lawyer Zahia Mokhtari, told AFP in Algiers late Friday.

Mohamed Merah was shot dead by a RAID sniper on March 22 at the end of a 32-hour siege at his flat in Toulouse in southern France.

The 23-year-old had shot dead three soldiers, and three children and a teacher at a Jewish school, in a killing spree this month that shocked the country.

French police arrested 19 people in a crackdown on suspected Islamist networks in dawn raids on Friday as President Nicolas Sarkozy made the battle against extremism the keynote of his re-election campaign.

The lawyer's comments came after Mohamed Benalel Merah suggested on French television and elsewhere that he would pursue the French state for the death of his son.

Those comments raised the hackles of Sarkozy and the rest of the French political establishment.

French court meanwhile has sentenced a 20-year-old man, Mohamed Redha Ghezali, from the same neighborhood as Merah to three months in prison for praising his crimes, prosecutors in Toulouse said.

Ghezali was convicted Thursday of "provoking racial hatred" and "apology for terrorism" and Toulouse prosecutor Michel Valet said the state would "systematically pursue" anyone expressing support for Merah.

The Depeche du Midi reported that the man, while haranguing a group of police officers, had said: "My mate Mohamed, that's a real man. It's too bad he didn't have time to finish the job."