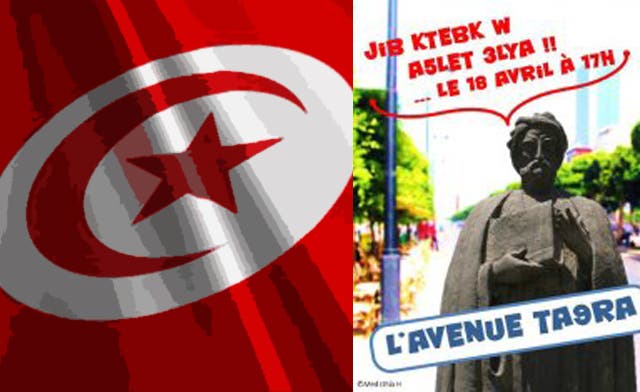 Tunisians to organize book reading sessions instead of protests
After recent clashes between Tunisian police and thousands of anti-government protesters who tried to storm Habib Bourguiba Avenue in Tunis on Monday to defy a ban on demonstrations in the same area of the revolt that ousted President Zine al-Abidine Ben Ali over a year ago, a new event aims to reclaim the area and make voices heard.

The event, organized on Facebook, has been called "L'avenue ta9ra" or "The avenue reads", and aims to bring Tunisians and their books together at Habib Bourguiba Avenue for a collective reading session.

The page on the social media website states: "And what if we took over the avenue? Not with our chanting and demonstrations, but with our books. As usual, the idea is simple: on Wednesday April 18 from 5pm, we'll head to the avenue, and for an hour sit in cafés, on benches, on steps, a book in hand. It's not necessary to get to know each other, talk to each other … We'll recognize each other just by holding a book.

"It will be the first silent demonstration on the avenue, with no political demand; we want to prove and show that Tunisians read, that those who will change the world are those that read.

"It is time to remember that our people are engaged, educated and literate.

"Invite your friends, come in great numbers, let's create the event. To your books!!!"
Tunisian blogger Abdelkarim Ben Abdallah initiated a similar initiative called "Les amis du livre" ("Friends of the book"). Also using Facebook members share book suggestions, discuss their choices and organize votes to choose future locations for gathering.

Tunisia is one of the Arab countries to have a high literacy rate among its citizen. About 74 percent of Tunisian populations of 10,732,900 is literate. The literacy rate greatly increased after its independence from France. According to the 1996 census data, the literacy rate of the last generation of Tunisian men educated under the French rule (those born 1945-49) was less than 65 percent.

Tunisia has seen few cultural rallies since the uprisings of 2011. However, young Tunisians have realized that collective intelligence has become the role of lead to carry on the results they want in a peaceful means.