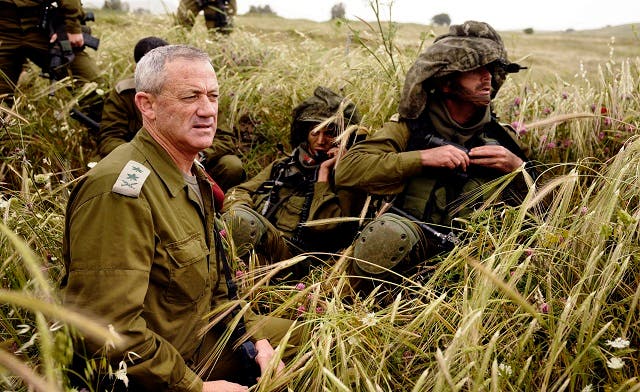 Israel ready to strike Iran, Lebanon, Gaza if ordered, says military chief
Israeli forces are carrying out more special operations beyond the country's borders and will be ready to attack Iran's nuclear sites, Gaza and Lebanon if ordered, the chief-of-staff said in an interview on Sunday.

In an extract from an interview with the top-selling Yediot Aharanot daily, Lieutenant General Benny Gantz said that 2012 would be a critical year in efforts to halt what Israel and much of the international community believe is an Iranian nuclear arms program.

"We think that a nuclear Iran is a very bad thing, which the world needs to stop and which Israel needs to stop ─ and we are planning accordingly," Gantz said.

"In principle, we are ready to act.
"That does not mean that I will now order (air force chief) Ido (Nehushtan) to strike Iran," he added in the interview which will be published in full on Wednesday, on the eve of Israel's 64th anniversary as a state.

The United States says it does not believe Iran has so far taken a decision to develop a nuclear weapon, or that the time is right for military action, preferring to give international sanctions time to work.

But Israel, which sees a nuclear Iran as a threat to its very existence, claims Tehran may be on the cusp of "breakout" capability ─ when it could quickly build a nuclear weapon ─ and it does not rule out staging a pre-emptive strike of its own.

During the interview, Gantz also addressed special operations carried out by the IDF beyond Israel's borders, revealing that the scope of such activities has increased significantly compared to the past.

"I don't think you will find a point in time where something isn't happening somewhere in the world," he said. "The level of risk has increased as well. This is not something invented by Benny Gantz. I'm not taking the credit here. I'm simply accelerating all those special operations."

Regarding the likelihood of a war breaking out this year, Gantz said: "Our intelligence assessment asserts that given the strategic reality and instability in the region, the chance of deteriorating to a war is higher than in the past. There are no indications of war, but the chances of the situation deteriorating into one are higher than in the past.
Gantz on threats from Lebanon, Gaza
The army chief added that in case of a regional war, the military will be able to cope with the rocket threat from Lebanon and from the Gaza Strip.

"I can't promise no missiles will be landing here. They will be falling; many of them. It won't be a simple war, neither on the frontlines nor ion the home front," he said. "However, I don't advice anyone to test us on this front."

"When (Hezbollah leader Hassan) Nasrallah comes out of his bunker, he's concerned – and rightfully so. He saw what happened to Lebanon last time, and it won't be close to what will happen to Lebanon next time," the army chief said. "I think they understand it well."