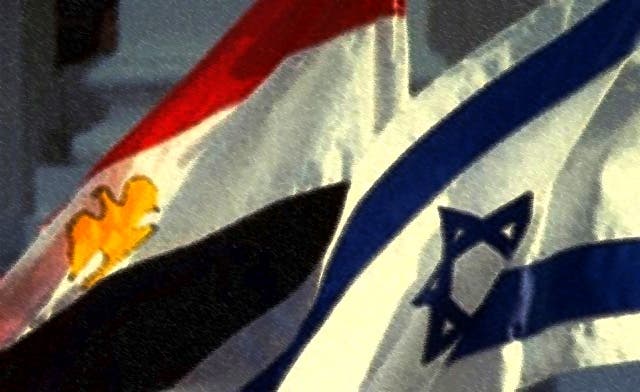 Israel says Egypt's termination of gas deal violates Camp David peace accord
Israel's military chief of staff Maj. Gen. Benny Gantz warned that the Israeli troops are ready for any confrontation in case Egypt has turned into an enemy, after long years of peace, Egypt's al-Youm al-Sabea reported on Monday citing the Israeli radio.

The comments came after Egypt has terminated a controversial long-term gas supply deal with Israel, a step interpreted by Israeli analysts as a violation of the Camp David peace accord, signed by both countries in 1979.

Israeli opposition leader Shaul Mofaz warned of an unprecedented crisis between Cairo and Tel Aviv, describing the decision as a violation of the economic agreement included in the Camp David peace accord, Al Arabiya correspondent in Jerusalem reported on Monday.
Mofaz called for the interference of the United States, which is the sponsor of the gas deal between Egypt and Israel.

Foreign Minister Avigdor Lieberman, meanwhile, told Israeli radio stations the cancellation of the deal was "not a good sign," but added: "We want to understand this as a trade dispute. I think that to turn a business dispute into a diplomatic dispute would be a mistake."

"Israel is interested in maintaining the peace treaty and we think this is also a supreme interest of Egypt," he said.

"This is a dangerous precedent that casts clouds over the peace agreements and the atmosphere of peace between Egypt and Israel," Israel's Finance Ministry said late on Sunday in an emailed statement.

Israel's relationship with Egypt has grown increasingly tense since street protests led to the resignation of former Egyptian president Hosni Mubarak in February 2011. Mubarak had been Israel's closest regional ally, and was considered a staunch supporter of the 1979 Camp David peace accords that ended decades of hostilities between the countries.

Knesset Member Binyamin Ben-Eliezer, who signed the gas deal with Egypt during his term as infrastructure minister, told Israel's news website Ynet the deal's termination is yet another indication that a conflict between Israel and Cairo is possible.

He claimed the Egyptian energy companies could not have terminated the deal without the government's backing. "The decision is political. A private company cannot terminate a deal between countries," he said.

Ampal-American Israel Corp., which owns 12.5 percent of East Mediterranean Gas Co. (EMG), said it had been advised by EMG that Egyptian General Petroleum Corp. and the Egyptian Natural Gas Holding Co. were terminating the gas-supply agreement between the companies.

Mohammed Shoeib, chairman of the Egyptian company EGAS, confirmed the decision, saying the 20-year-old deal with Israel had been terminated on Thursday.

Shoeib told Egypt's al-Hayat TV that "EGAS ended the deal because the other party didn't fulfill its commitments."

Shoeib denied the decision bore any diplomatic significance.

"It is a trade dispute not a political issue," he said.

Egyptian Oil Minister Abdullah Ghorab said in a telephone interview that this is a contractual matter, and "we are exercising our rights under the contract."

The gas deal, valued at $2.5 billion, was signed in 2005 and was supposed to run 15 years. The gas supply had already been interrupted sporadically as the Sinai pipeline that carries the fuel was bombed 14 times since the start of Egypt's political turmoil.

Until the Sinai pipeline attacks began, Egyptian gas had accounted for some 40 percent of fuel used to meet Israel's electricity needs. Israel Electric Corp. has resorted to using more expensive substitute fuels, and is hoping that domestic gas finds discovered off Israel's coast will begin making up the shortfall beginning next year.

The sale of natural gas to Israel had been one of the main criticisms the Egyptian opposition voiced against former Egyptian president Mubarak, claiming that the price the Israeli company secured was extremely low, cutting into Egypt's national income.

Egypt was the first of two Arab countries to sign a peace treaty with Israel, in 1979, followed by Jordan in 1994.

Israel had to evacuate embassy staff in Cairo after riots there in September, an incident that highlighted threats to relations, though a new ambassador has since taken up residence in the Egyptian capital.


(Additional writing by Abeer Tayel)