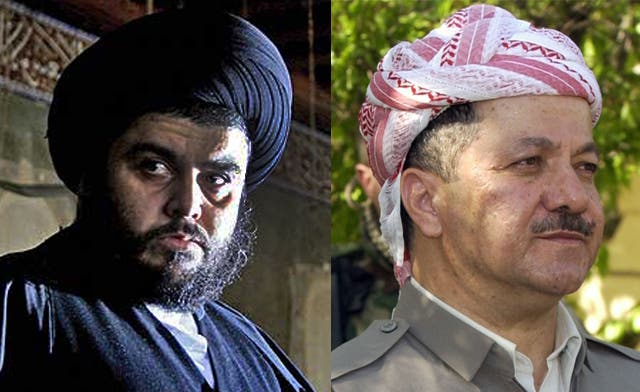 Iraq's Sadr to meet Kurdistan's President
Powerful Iraqi Shiite cleric Moqtada al-Sadr will meet Kurdistan chief Massud Barzani Thursday in a bid to resolve a crisis between the autonomous region and Baghdad, the cleric's spokesman said.

"An invitation has been sent to the sayyid (Sadr) for this visit, and he responded by saying 'yes', " Sadr's spokesman Salah al-Obeidi told a news conference in Baghdad when asked about a potential visit by the cleric to the Kurdistan region in north Iraq.

Sadr, who spends most of his time on religious studies in Iran, "will meet Barzani today, and there is a significant possibility that he will go to Najaf after finishing his meetings in Kurdistan," a source in Sadr's office in Najaf also told AFP.

"The crisis needs such a move to resolve the situation," Obeidi said, adding that "the sayyid is trying to put Al-Ahrar (his parliamentary bloc) and himself personally in the middle."

"One of the goals of the visit is to solve the crisis," Obeidi said.

Tensions are high between Kurdistan and Baghdad, and especially between Barzani and Prime Minister Nuri al-Maliki.

Barzani said on April 22 that he opposes the sale of F-16 warplanes to Iraq while Maliki is prime minister, as as he fears they would be used against Kurdistan.

Barzani had previously accused Maliki of moving toward dictatorship, and said the premier aimed to "kill the democratic process" after the head of Iraq's electoral commission was arrested for alleged corruption.

Earlier this month, Kurdistan stopped oil exports of more than $1.5 billion owed to foreign oil companies working in the region that it says Baghdad has withheld.

The central government's top two oil officials responded by saying Arbil owed Baghdad more than $5 billion in promised exports, and was smuggling the oil it produced to Iran.